Ford vs Kavanaugh: A Timeline
If being on the Supreme Court seems like hard work, imagine trying to make a major political decision with a splitting headache due to a screaming hangover from a night of blacked-out beer chugging? Ouch! Coffee and Advil, please?
All joking aside though, this had become the hot topic for debate across the nation as Oct. 8 marked an epic date in history that spurred debate, backlash and protest.
It is the day that Brett Kavanaugh was officially sworn in as Supreme Court Justice, just weeks after he was accused of sexually assaulting high school acquaintance,Christine Blasey Ford in the early 1980s. Ford is now a professor at Palo Alto University.
To fully understand the true impact of this event though, we must rewind to summer when Brett Kavanaugh became a household name, but for all the wrong reasons. While one can argue that Ford's allegation did have some sketchy holes, the main point which cannot be avoided is very well-heard: she claims he sexually assaulted her.
Here is a timeline highlighting the significant events taking place throughout this turmoil:
• July 9: President Trump announces his decision to nominate Kavanaugh for Supreme Court Justice. He had been on the U.S. Court of Appeals for the District of Columbia Circuit for more than a decade.
• July 30: According to John Bowden, political columnist for TheHill.com, Ford, "sends a letter to her state's senator, Sen.Dianne Feinstein (D-Calif.), detailing her allegation of sexual assault against Kavanaugh." Feinstein does not go public with the letter in respect of Ford's privacy.
• Sept. 13: Feinstein sends Ford's letter to FBI even though, according to Bowden, " had already completed its background check into Kavanaugh."
— This is when things get extremely messy for Kavanaugh.—
• Sept. 16: Ford came out to The Washington Post detailing, "an alleged incident at a high school party in 1982 during which she says Kavanaugh held her down on a bed, muffling her screams for help with his hand and forcibly groped her while trying to remove her clothes," according to Bowden's article.
• Sept. 23-26 : Two females, Deborah Ramirez and Julie Swetnick, came forward accusing Kavanaugh of sexual misconduct during their years in college. "The judge was present for "gang rapes" at highschool parties in the 1980s," Swetnick alleged according to Bowden.
•Sept. 27: The epic hearing takes place before the Senate Judiciary Committee. Ford claims that she is "100 percent" certain it was Kavanaugh that sexually assaulted her that night. "Kavanaugh responds in his own testimony later in the day, at times becoming angry and breaking into tears as he defended himself against the allegations from Ford, Ramirez and Swetnick," according to Bowden.
• Oct. 4: Investigation is concluded by the FBI. Senators are allowed to view report of findings. Many found it unjust though that Kavanaugh and Ford were both not questioned during this investigation, as they hold crucial information regarding the events that occurred in Ford's allegation.
• Oct. 5 : The Senate advances Kavanaugh nomination by a 51-49 vote.
• Oct. 8: Kavanaugh is sworn in at White House, officially declaring his title Supreme Court Justice. The decision created an uproar in the nation as protests erupted nationally, as well as locally, including Downtown San Diego and La Jolla.
By the Numbers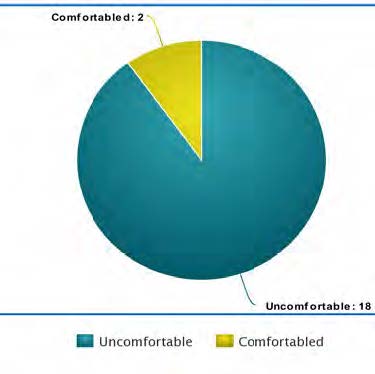 The Summit polled 20 students on campus asking them, "Are you comfortable with Kavanaugh being named Supreme Court Justice considering his shady past that has been recently brought to light?"
Out of the 20 students polled, 18 said they were in fact uncomfortable in Kavanaugh being named Justice in the midst of sexual assault allegations. The remaining two students argued his past should not interfere with his current position as these were technically "allegations" and were never proven.
Grossmont student Ariel Sandoval described her reaction of the Kavanaugh decision: "I feel like it leaves a bad taste in the mouths of Americans, especially women who have experienced some sort of assault in the past. It just seems like they could have chosen a better candidate for such a high-power position."