B-Ball Camp on Campus
The men's basketball team concludes summer break by holding a youth basketball camp at Grossmont to teach the fundamentals of the sport.
It's never too early in an athlete's life to aspire to "ball like Jordan." In fact, LeBron James was only 14 years old
when he was recruited by St. Vincent-St. Mary High School in 1999, sparking the attention of the NBA.
Grossmont's Athletics Department supports the dreams and talent of not only students who are enrolled at the
college, but also the aspirations of even younger generations. Men's Basketball Head Coach Doug Weber and company held their 15th annual Youth Basketball camp Aug. 5-8 inside the Grossmont gymnasium, as roughly 56 children and teens participated in the inspiring event.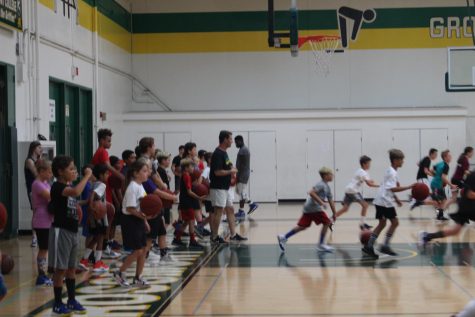 The camp, which tipped off promptly at 8 am and threw in the towel at noon all four days, was open to boys and girls
from third to ninth grades at $75 cost per camper. This payment was well worth it, considering the campers not only gained knowledge of basketball skills, but an overall priceless life experience that transcends on and off the court.
Parent Mike Rademaker proudly watched from the bleachers as his 9-year- old son, who is entering fifth grade,participated in the camp.
"Camp has been great. I was searching online for basketball camps and this came up," Rademaker said. "It's been good. We live pretty close, so it's convenient for us. And he's been happy; he's been enjoying himself and that's all that matters really."
The event was hosted by Weber along with five players from the men's basketball team, as well as one player from the women's team. "It's my players, then we have one player from Coach Caires' team because we have
females , so let's give them a role model," Weber explained.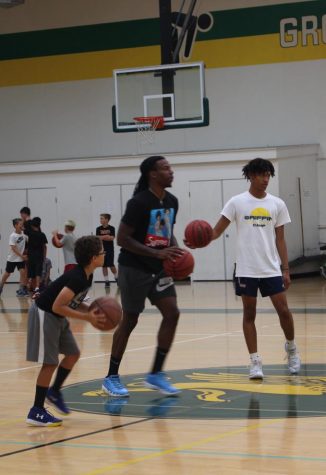 A typical day at the camp began with an inspirational message or quote, followed by warm-ups. Then, onto basketball fundamentals and skills such as pivoting, dribbling, shooting and overall ball control techniques. The day ended with a scrimmage.
Weber further elaborated on the schedule: "We do a warm-up; we do a thought of the day and then we end up doing a situation where we'll do 'stations'. Each of my camp coaches—one coach will teach passing, one will teach ball handling, one will teach defense, one will teach shooting, so they end up getting a little bit of everything from each
one of these guys."
While the basketball camp of course teaches the skills and knowledge necessary to play the sport, Weber and the team realize that these fundamentals cannot be taught without fun. And what's more fun than a water balloon fight on a scorching August day in El Cajon?
He explained, "Today is for fun. We'll do water balloons, we'll go in and do a couple of shooting contests that we've
done throughout the camp, and then we'll scrimmage at the end."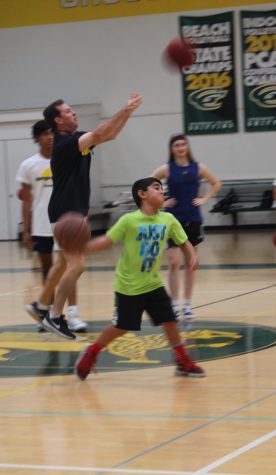 The camp itself ends up being a win- win situation for all parties involved. For the campers participating, the teaching of fundamentals from the talented G-House team serves as a hands-on learning experience unlike any other. Meanwhile, the team players volunteering to help coach the event are able to embrace mentoring and leadership roles to influence the lives of a younger generation.
Grossmont men's basketball player, Lawrence Gregg, volunteered to help coach the camp. "I think it really gets me to really connect with the kids because I remember doing these camps when I was a kid, so it makes me feel good being able to give back and help them learn how to play basketball the same way I did." Gregg continued, "It helps me, to be able to influence this younger generation to be serious about basketball."
Weber added on to the reciprocal nature the camp offers to players and participants: "For my guys they have to know what they're doing, and if you can teach something; you've got a handle on it. And then, you have the kids looking up to them.
"These guys were in high school one or two years ago so the campers go, 'I can do this.' We let our guys be in some shooting contests with them just so they have an idea that this is what it's all about," Weber continued.
Mason Daley, a 7th grader participating in the camp who plays basketball at his school, said: "It's helped me out really well actually. I've learned some new skills and I've got to meet new friends here too."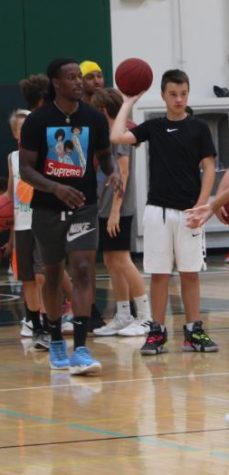 Weber offered a glimpse into the inception of the sports camp: "This is our 15th year. We started it when my kids were this age and we had a bunch of their friends that wanted to do camp, then we had some faculty.
"And so that's how it started was my kids and then the faculties wanted that, so it's kind of grown into this," he continued. "We don't really advertise; it's all word of mouth."
No advertising is necessary. With the positive influence and morals it instills to participants, along with teachings and incorporation of fun into basketball fundamentals, it's no wonder why this camp has flourished and looks to continue for many summers to come.