Oktoberfest
The celebration might be famous in Europe, but its traditions and history are celebrated across the globe.
Sara Rott, Deputy Editor in Chief
October 18, 2019
Oktoberfest starts in September despite the name. The big celebration takes place over a 16-day period. Oktoberfest started in Munich, Germany, more than 200 years ago and still goes on to this day.
It was first established when Bavaria's crowned Prince Ludwig the First married Princess Therese of Sachsen. "They invited subjects to the wedding and since then, it's Oktoberfest for several weeks," said Monika Parme, the German-American Society of El Cajon Ambassador.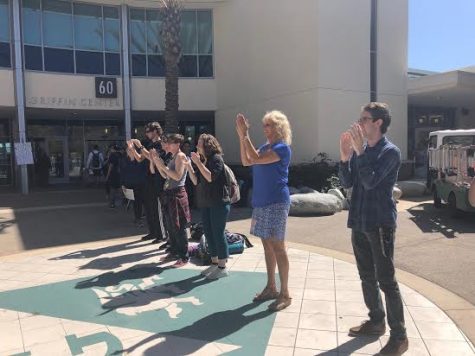 The German-American Society of El Cajon was established more than 50 years ago for German-speaking people to come together in a safe place.
Since then, it's only expanded to anyone interested in the culture, uniting Germans and other nationalities in activities.
The society is famous for El Cajon's Oktoberfest, which took place during the first two weeks of October. At one
time, it was the first and only authentic Oktoberfest; since then, it has expanded to other parts of San Diego County.
The festival is the last celebration to take place outside before it gets cold. People come together to celebrate the
successful harvest of wheat and grapes in the summertime. Famous for its food, music and – of course – beer, the celebration welcomes the coming of fall.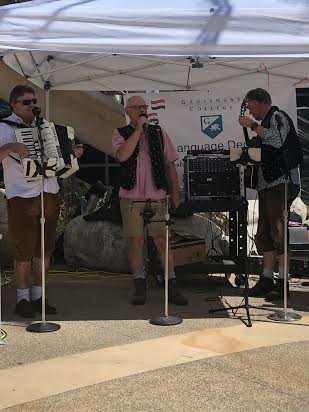 Throughout the large party, it's classic to hear the sounds of traditional music and see women dressed in traditional,
frilly blouse-and-apron outfits called dirndls. They deliver beer and carry three mugs or steins in each hand.
Dancing is a classic tradition, especially with a little beer in your system. Everyone is invited to take part in the chicken dance, an Oktoberfest tradition for more than two decades.
Food and beer are two major keys to any Oktoberfest celebration. Traditional and delicious foods such as pretzels and cheese, sausages (Würstl) and radishes covered in salt are on the menu. The beer is only served in a large stein— a tall half-liter glass.
Along with the merry libations, the beer stein-holding contest is a competitive activity where men and women see how long they can hold it.
"It's a contest of endurance and strength," said Sabrina Sota, a member of the Grossmont German Club. "Who can hold it the longest and if you win, you gotta chug it down," she continued.
Grossmont's German Club recreated a small Oktoberfest in front of Griffin Grill, introducing students to the traditions of Germany. The band that played at the El Cajon festival also attended the little event.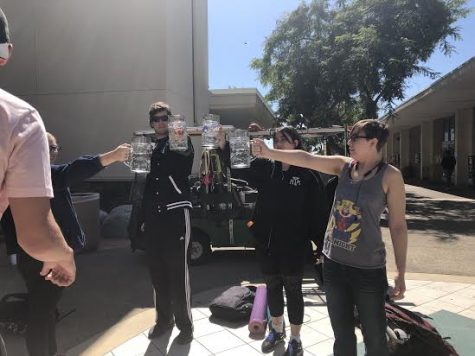 The German Club encouraged students to enroll in German classes and take part in the festivities. They hosted a small beer stein holding contest – sadly with water – to test students' strength. Whoever won got a Kinder chocolate bar.
Whether you're of German descent or just down to have a good time, Oktoberfest brings merriment and joy. Today it's is bigger than ever and celebrated across the world, from Germany to Grossmont.