Please Pardon Our Dust
The construction end date for the new Performing and Visual Arts Center is slated for spring, with the renovation of Building 31 projected to be completed this month.
Take it from any student— cramming is not ideal. The same concept can be applied to the process of building and constructing, as a rushed project can result in more than just a failing grade, but create an unsafe and sub-par structure. While detoured routes and pinch-points block easy access to classrooms – construction on campus poses inconveniences to current students – the future technologies and amenities these projects will offer to Grossmont College are impressive.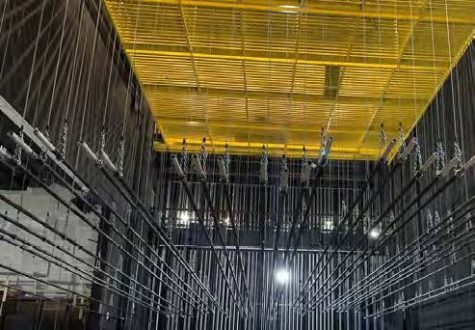 "We recognize that it's not the easiest thing to live through, but were trying to make it as bearable as possible for everybody," said Lorena Ruggero, director of College and Community Relations.
Ruggero thanked students for their patience and asked them to, "please pardon our dust," as construction is underway.
Campus administration also acknowledges the construction does not make for the most ideal conditions for students and staff, but assures these projects, funded through Proposition V, will be well worth the hassle. The proposition was passed in 2013 by East County voters as the construction of phase one began December 2017, while there were many projects prior that helped build the infrastructure for expanding the campus.
One of the most exciting and technologically advanced structures is the enormous new 38,680-square-foot Performing and Visual Arts Center (PVAC), which will house a 390-seat teaching and performance theater and will also include the new Hyde Gallery. This project, considered phase one of the two-phased series of the Prop. V construction bond for the PVAC, had an estimated projection cost of $43.87 million.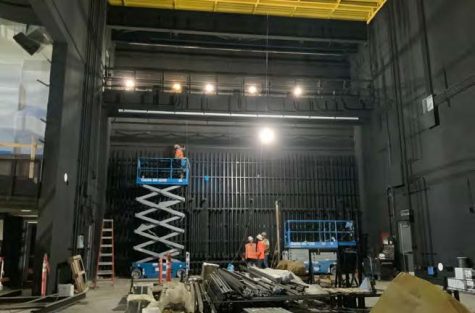 While the new PVAC was initially slated to open this semester, construction was delayed due to weather conditions as well as unexpected setbacks which were discovered upon digging into the ground. The projected completion date is now slated to be Spring 2020.
Vice President of Administrative Services, Bill McGreevy empathizes with the frustration students and staff feel regarding the delay, but reassures this extra time is beneficial and necessary when creating a structure of this magnitude.
"Really the bottom line in all of this is serving students and how can we better serve students," McGreevy said.
"The most important thing about this, is that it is going to allow students to actually apply what they are learning in the classes in a facility here on campus," he continued. "For example, Dance has been doing all of its performances at the Kroc Theatre, now we'll have our own home for them here."
Ruggero also agreed with McGreevy, emphasizing the frustration is understandable and explaining construction from Prop. V funding is occurring district-wide.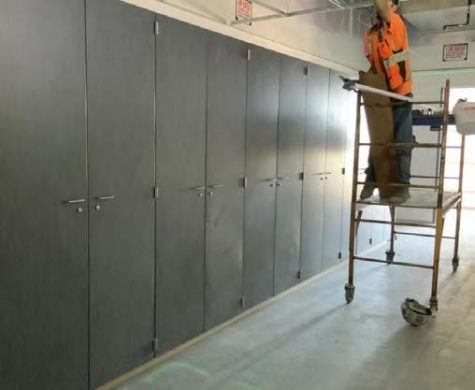 "Cuyamaca is also using Proposition V funding for all the construction on campus, so they're doing a lot of similar things that we are doing with swing space, closing down buildings and reopening them; and on top of that, the district has to coordinate all of this work as well to make sure that both campuses get their projects done in a timely sequence," Ruggero said.
She reminds students construction in itself is a give-and-take process, as students of the past had to endure the same hardships in order for the students of today to benefit from the current amenities and structures Grossmont has produced.
"You're going to experience it on any college campus; you're going to be inconvenienced by current construction," Ruggero continued. "However, there's a huge impact that you benefit from people tolerating that in the past and that future students will benefit from."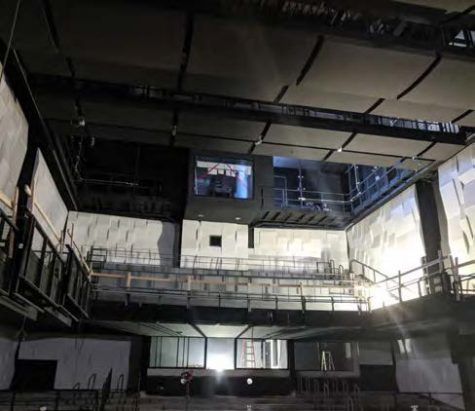 The new structures will not only benefit students of Grossmont, which is the administration's primary goal, but are also projected to become a staple of the East County community.
"A key thing about the Performing and Visual Arts Center, it has one of the largest stages in San Diego County and especially for our Theatre Arts students who are doing more of the technical theater," Ruggero said.
"When it comes to lighting and staging and the mechanical side of theater, they are going to be training on one of the newest, best facilities in the entire county," she continued. "And, what will be nice for those students specifically, is to be training in what we hope will be a world-class facility. For them to be able to take that skill set into the burgeoning theater scene here in San Diego and across the country, and across the world if they wanted to, certainly."
While the unveiling of the new PVAC is slated for Spring 2020, hopefully around mid-semester; this month, administrators also hope to mark the completion of phase one of the Science, Math & Career Tech Complex—the Building 31 renovation.
"The whole building was gutted to the frame and then completely rebuilt inside, so it's going to be a new building," McGreevy said. "They were putting up ceiling tiles as of last week, so they're really in the homestretch on that one."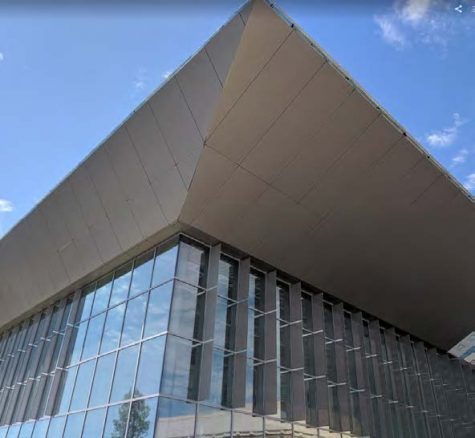 During the gutting of Building 31, tenants were relocated to an interim swing-space of classrooms located in Parking Lot 5 known as the "100's Building." Over winter break, the tenants will be moved back to the remodeled Building 31 as classes will resume and professors will have their offices back in January.
McGreevy explained the systematic process of relocating students and staff during the multiple phases of construction: "The people in classes from Building 36 will move over to the temporary swing space while that building is demolished and rebuilt."
McGreevy continued: "Then we go to Building 36, which will be demolished, and a new Building 36 built. In the Arts and Communication Complex, the plan is for those to also be demolished and new buildings built, and then it goes over to the 500's on the other side of campus; so we'll be in construction for a while. But, it's all being coordinated so it's not all going on at the same time."
The PVAC will have somewhat of a "soft-opening" Nov. 14,15 and 16 as the Dance department has a concert scheduled on the new stage. The show was initially booked when the slatted completion date of the PVAC was set for September 2019. The last time the Dance Department was able to perform at Grossmont was in 2012; in the meantime, it was holding concerts at the Joan B. Kroc Centre where they had to pay an additional rental fee.
Dance Chair Kathy Meyer shared her excitement in calling Grossmont a true home again, stating one of the major reasons she did not want to retire until she could see the end of the process of having a student and faculty concert on campus again.
"The building looks beautiful; I'm taken by how beautiful it is; it's going to be magnificent," Meyer said. "I think it's going to be great for Grossmont the visibility of our college overall.
"It was kind of a pain to do everything off-campus, every tech rehearsal every dress rehearsal every performance," Meyer continued. "The students would have to plan for enough travel time, where as here it's 10 minutes; they can walk over… We have a really large stage; it's the perfect size for intimate audiences but really large enough to house the number that we need."
While construction is indeed inconvenient, the structures being built will serve the community and Grossmont. As the blueprints come to fruition and the caution tape gets pulled down, students will begin to watch Grossmont grow into a true home.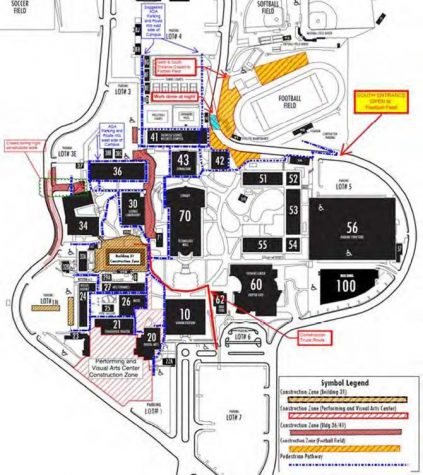 "I know much of the discussion is the idea of communication, trying to be as open and transparent as possible," McGreevy said. "I know that the idea that you've got a blue fence that's been up for months and you haven't heard anything, that can be frustrating; so were trying to let people know about what's happening so they'll at least know why that blue fence is there."