How Cupid Lost His Job… The Lavender Gayla
The SOGI club is encouraging students to value both the love of their life and the love in their life.
The dollar section in Target indicates the arrival of the next holiday to anticipate or dread: Valentine's Day. Grossmont College's SOGI (Sexual Orientation and Gender Identity) club is choosing its own route by hosting the Lavender Gayla Feb. 15 to celebrate all types of love. Club president Jasz Cabrera planned this prom event for local LGBT+ high schoolers to mix with college students to give the younger students a perspective on the LGBT+ community outside of their own school.
"I wanted to run it the day after Valentine's Day because it's important to talk about and represent a love that doesn't just love between partners," Cabrera said. "Often time the media portrays romantic love as the highest form of love. It should also be celebrated…between platonic friends, between mentors, between your family and your chosen family, and most importantly, self-love."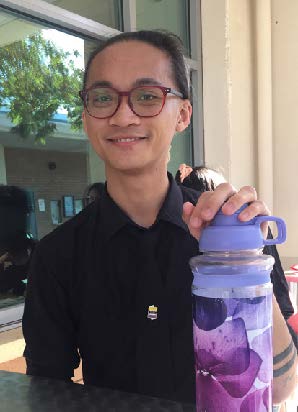 The Lavender Gayla will have snacks and refreshments, dancing, photo booths and entertainment. Cabrera also incorporated a "quiet zone" for attendees who might get overstimulated. The quiet zone will offer board games, coloring and other activities to contribute to a calmer setting.
Since it's a prom-style event, the Lavender Gayla partnered with The Princess Project, who will provide free dresses, tuxedo shirts and bow-ties to students so they aren't hindered by a lack of formal wear. The club members wanted to lower the pressure of romantic relationships for students by hosting this event, which values and empowers all forms of relationships and love.Cabrera emphasized the party's goal is to rewrite the notion that romantic love is the most important form.
Other students on campus had ideas also opposing the traditional origin of Valentine's Day.
"I feel like Valentine's Day has always been pushed ever since you're young," Martha Solano, a human biology major, said. "That's how I've always felt about it, but I kind of redefined it for myself when I was older. It was like the day of Saint Valentine, which was more like friendship day."
Grossmont students with many different backgrounds are celebrating more than just the fairytale romance. Carlos Vengas, an international student from Colombia, explained how American Valentine's Day was "kind of a new holiday" for him. He said his country's equivalent could be translated to "love and friendship" day.
"I don't think there's a specific day that you have to love that person or love yourself," Vengas added. "It can be any other day."Cabrera explained how the Lavender Gayla was going to incorporate one of the main themes: self-love. "So we're going to print out, like a speech bubble and it's going to say, 'What I love most about myself is…' and then they fill it in; they staple it to the wall and they can take pictures in front of that as well."
"
I wanted to run it the day after Valentine's Day because it's important to talk about and represent love that isn't just love between partners."
— Jasz Cabrera - SOGI Club President
Self-love is a popular catchphrase circulating in the form of #treatyoself, which is commonly recognized on social media.
Though it looks different for many people, Cabrera said: "Self-care hashtags have been going around where it's like the bubble baths and the shopping sprees and eat your favorite things and that's fine and that's wonderful as well—that is a form of self-love. But what was really important to me, was it was pointed out that self-love should also be self-growth." As the next semester starts up, college students might find it difficult to prioritize self-love in the new, hectic schedule. "So
this week I picked up painting," Solano said. "I paint like crap… But I like it! It's fun. It's something new that I'm doing, but
every day at least have like an hour where it's just me doing something that I like."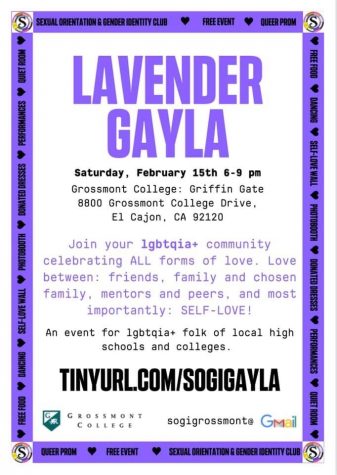 Criminal justice student Leah Neale said, "We're always so busy and hung up with our work and trying to be productive and get stuff done that we don't focus on the more quiet times to…refocus and kind of evaluate things in your life."
However, Neale offered her own advice to incorporate daily self-love by complimenting yourself each morning. Students are taking an opportunity this Valentine's Day to become more aware of caring and appreciating themselves.
However, this isn't a tradition to only revisit next year. "My adopted mom once told me that you have to work hard…but always find a moment to take care of yourself," Vengas said. "She realized I was so busy taking care of other people that I didn't take care of myself… if I don't take care of myself, how am I supposed to take care of other people?'"
As Valentine's Day approaches, keep in mind the cultural shift taking place on the holiday. It is no longer focused solely on a significant other or buying clearance chocolate the following day. The Lavender Gayla hopes to reinvent this season of love by reminding students all personal relationships, including the one you have with yourself, are worthy of celebration.