Grossmont's Culinary Program: Cooking Up New Chefs
The culinary arts department successfully prepares students for working in the restaurant industry.
Before the coronavirus, tucked away in the back of the Griffin Center, students in black and white uniforms were busy in their classroom: the kitchen. The Culinary Arts department at Grossmont College offers students courses to prepare them for their careers in the restaurant and food industry. 
Chef Josephine "Jojo" Rossi, an instructor in the Culinary Arts department said, "Our program is part of the division of career technical education. They are devoted to teaching people usable skills out in the workforce." 
For a typical semester, each class period meets once a week for about five hours. The first two hours of class consist of traditional academic instruction. Chef Rossi, who teaches the required courses to obtain the certificate of achievement, explains each class's concept with a PowerPoint and demonstration. After she has lectured, students transition into the practical, or lab, portion of the class. They apply what they have just learned for the next three hours. 
The students are given recipe packets to complete in small groups. Most of the work in these labs consists of small groups with about four or five students. 
Chef Rossi said: "Students rotate going through somebody being in charge which is essentially called being the sous-chef. We try to mimic the terms we would use in a professional kitchen." Rotating students as the sous-chef develop their leadership skills as they delegate jobs for maximum collaboration. 
"
"What I try to teach my students is that anybody can look at a recipe and cook a recipe. But the difference between a great meal and a good meal is technique.
— Chef Josephine "Jojo" Rossi
Working in groups prepares students for realistic industry work. In fact, the whole program is set up to imitate a professional setting. Adjunct instructor Helen Coyne said, "Everything is to help them in the industry. The five hours class is like a shift at work. Every class you show up in your uniform with your kit, thermometer, apron, and hat." 
Chef Rossi explained how she introduces concepts for the students to practice in a lab: "So we'll have a topic. For instance, our very first cooking lab in the first class would be an introduction to dry heat cooking methods. Those are things like saute, broil, bake, roast. They'd have a recipe packet and there'd be a recipe that corresponds to each one of those dry heat cooking methods. In that lab, they'd pan-fry a piece of chicken, bake cornbread, roast potatoes and saute zucchini and fry french fries. Together they'd build a plate and then work on seasoning and flavoring and understanding those concepts and understanding how to put it together on a plate."
Another skill developed within the program courses is time management. In the buffet and catering class, students are expected to complete the food preparation before the set time limit to simulate a setting where actual guests would arrive and expect the meal to be ready.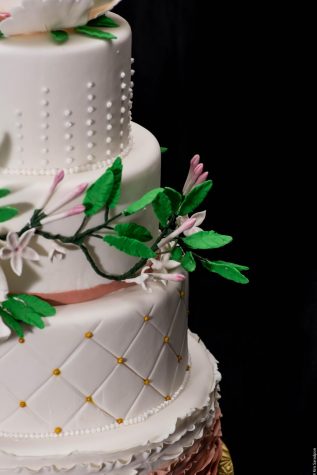 Urica Francis is a current student in the buffet and catering class taught by Chef Valerie Carlone Baker. 
Francis said via a phone call: "Initially when I started, I thought I'd pick up a few tricks here and there with how to get a business off the ground. Having been in the class, it has turned it around for me and opened my eyes." Francis' passion for cooking started in her home kitchen and she has since enrolled in Grossmont's culinary classes with the intention of eventually starting her own catering business.  
Since the recent transition to online classes across campus, Francis said: "It has not been too much of an inconvenience except not being able to sit in class. It does take away from the fullness of the presentations. It loses some effectiveness and beauty." Her class focuses on theory and lecture but is now incorporating substitute assignments since they're unable to complete the lab portion. However, the interest in class has drastically decreased with the online class format. Francis said only about four students actively participate in the online discussion boards. 
Jenny McLin, majoring in both business and culinary, is also a current student in the catering and buffet class.
Although she is transferring to SDSU in the fall, she will continue to complete culinary classes at Grossmont with the future goal of opening her own bakery. McLin said via a Zoom meeting, one of the most valuable things she's learned through the Culinary Arts department is, "It's OK to make mistakes." She added that she is a strong perfectionist but the instructors always remind her she's still learning. One of McLin's favorite culinary classes was the menu management class. "It was a lecture course and I wasn't cooking but it was just really fun to learn about the psychology behind menus and how to set them up," she said.
A majority of the students enroll because of their current interest in cooking and future career aspirations. However, some students only attend class in hopes of refining their skills for personal use. For these students, instructor Coyne teaches a class offered on Saturday morning called "home cooking essentials". This course is less of a time and financial commitment because a uniform or kit is not required but is still an opportunity to ease into the culinary curriculum. 
In beginning classes, students learn the foundations of cooking including how to use a knife, basic knife cuts and then all of the various cooking techniques.
"Everything we do is technique-driven. What I try to teach my students is that anybody can look at a recipe and cook a recipe. But the difference between a great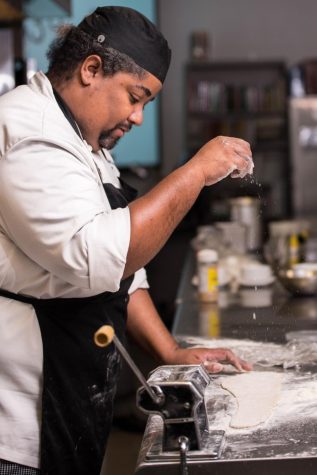 meal and a good meal is technique," Chef Rossi said. "Understanding how to be an intuitive cook. Learning how to read between the lines of understanding when you give the recipe a little bit more and when you hold back. It's the minutiae really, the attention to detail." 
When she first began teaching at Grossmont as an adjunct instructor, she was a corporate chef for a local restaurant group. She managed the kitchens of five restaurants and all the executive chefs. Now, as a full-time instructor, she said: "What I bring to this program is relevant industry experience. What is in the industry
today is what the students are learning. We've been working on updating our curriculum because the trend of food goes in and out of style."
Coyne added she loves seeing a student improve. "It gives me hope for them and hope for the industry. It's a privilege to be an instructor at Grossmont. A privilege. I do not take it for granted." Chef Rossi also thrives off of her student's success. "I'm just very passionate about teaching and sharing my experience. Those interactions with students when I see 'aha' moments are really inspiring back to me. It keeps me wanting to share my knowledge when students truly start to get it, work together, and can produce a delicious dish. That's when I feel I've done my job here." 
There is never a lull in Grossmont's classroom kitchens due to the popularity of the program. The culinary classes are almost always full each semester with more students on the waiting list. 
As students graduate from the program, they depart Grossmont with their chef's hat and certificate prepared to stain their apron in a new kitchen.