"The TY Lackey"
Tyrent Lackey's name is etched into history as he's inducted into the Hall of Fame.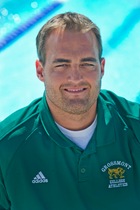 Watch out Griffins, there is a Hall of Fame and All-American water polo player in our midst, and he happens to be our men's water polo head coach.
Tyrent Lackey was inducted into the 2021 California Community College Associations Hall of Fame for his success as a player at Grossmont College from 2003 to 2004. When announcing the inductees, the Interim Executive Director Jennifer Cardone said: "They're not just the best of the best with their achievements, but they represent the kind of excellence we strive for across our membership. This is truly an amazing group of individuals."
Lackey joined four others who were being inducted for their service and contribution to California community colleges: Alfonso Boone (football, Mt. San Antonio), Broderick Perkins (baseball, Diablo Valley), while Papachristos (wrestling and golf coach, Chabot) and Sandi Taylor (softball coach, Bakersfield) 
There has been only one other Grossmont inductee — Bob Rump, a former tennis coach — so this makes Lackey the first athlete Grossmont has seen inducted as a player.
Lackey has an impressive history as an athlete, boasting two USA National team appearances in 2000 with the youth team and then with the men in 2002. While playing for the Griffins, Lackey was named the 2003 Pacific Coast Athletic Conference "Co-Player of the Year," All So-Cal First-Team and All-America First Team while serving as team captain. Lackey was also named 2016's Pacific Coast Conference "Coach of the Year."
At UCSD in 2006, Lackey earned a nomination for the Peter J. Cutino Award, which recognizes the best NCAA male and female athlete of the year in water polo. Not only has he dedicated himself to the pool, but he earned his master's degrees in Special Education and Exercise Science. He also holds a K-12 Special Education Teaching Credential and a Graduate Certificate that allows him to work with students who have autism.
In 2014, Lackey was named Grossmont's water polo head coach. In his Grossmont College bio, he is quoted as saying, "I love giving back to the sport, by helping student-athletes navigate the pool to reach their future goals!"
The 2018-19 season was the last full season the Griffins had. Under Lackey's leadership, they rose to success as the number seven seed in the 2018 CCCAA men's water polo Southern California regional championships, making it to the second round before losing to L.A. Valley.
Lackey was named 2018's "Coach of the Year." As the new season is already underway, the Griffins hope to continue the same success under Lackey with a 2-0 record in the conference, but a 4-5 overall record will have them climbing back to the top of the rankings with 26 games left in the season.