Budget and Return for Campus
The district budget has been approved and plans to return to campus in the spring are underway.
A virtual open forum was held to announce the 2021-2022 budget, and discuss plans to return to campus in spring for the Grossmont-Cuyamaca Community College District.
Chancellor Lynn Neault hosted the meeting with Interim Vice Chancellor of Business Services, Sahar Abushaban on Sept. 30. The meeting was held over Zoom, with more than 160 members of both Grossmont and Cuyamaca colleges attending.
Abushaban presented the budget report, adding it was adopted by the Governing Board on Sept. 14. Total revenue was around $130 million, and fixed costs for the current school year will amount to $129.9 million, she explained.
She added that the district received $1.5 million funding in the current year's budget for full-time faculty and said, "This is exciting news for us to increase the number of full-time faculty."
"Unrestricted General fund Cost of Living Adjustment (COLA) include 5.07% which equates to $5.8 million," Abushaban said. "Also, our 2021 fiscal year ended with a much higher ending balance than anticipated because our expenses are more than our revenue."
Abushaban indicated that lower state revenue, early retirements, reduction of adjuncts by 17% and hourlies by 80% were among several reasons why the ending balance was higher in 2021.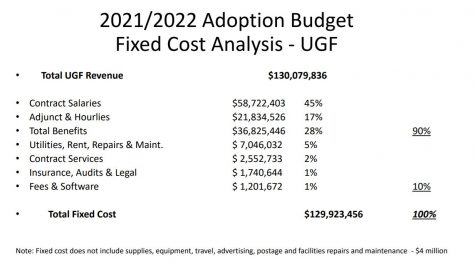 Neault added the administration is still working to allow students and faculty back to the campus.
"We began to methodically plan to transition our employees back to campus, always with the goal…to return to pre-pandemic operations for spring '22, and that's been our planning," Neault said. "In the process, we surveyed students to see what their needs for fall were back in spring '21…and found about 60% wanted some combination of on-campus and remote, and the remainder wanted online classes."
She added that the administration has some resources to support students in returning to campus, and they are continuing to pursue even more.