We're Back, Baby!
Grossmont looks to the spring semester with even more classes and students on campus with hopes of reconnecting with the community.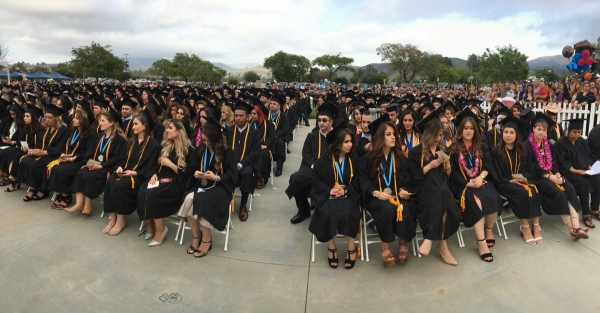 Finals are here, and to think some of us were starting in-person classes for the first time since COVID-19 forced us all indoors and onto our computers for the long haul. 
This semester went by incredibly fast, and the same goes for most Griffins on campus. Forrest Snyder, a nursing student at Grossmont who felt like this semester back was just what he and his classmates needed, said: "I noticed at the beginning of the year everyone in my class seemed like they were so excited to be back in their seats once again, and it felt like high school when everyone comes back after the long summer break and can't stop talking to each other about their vacation."
There is no question that it felt great to be back in class, and to have that face-to-face interaction with your teachers made all the difference. I personally saw a drastic improvement in my grades and the information I was able to retain. 
Recent studies found Zoom fatigue has become very real and was causing students to become stressed. This could manifest in different ways with different people such as intense emotions, or loss of energy and even changes in appetite.
Getting back in the classroom was a must as a recent study done by The Ohio State University medical center showed that burnout rose from 40% in August of 2020 to 70% in April of 2021. Grossmont has done a great job getting as many students as possible back to campus. Griffins were once again allowed to attend all outdoor sporting events like football and our water polo team, which won the conference championship this past November.
With a new year on the horizon and the spring semester set to begin, Grossmont looks to ramp this up with even more on-campus classes. The school still requires students to be fully vaccinated or make an official request for religious or medical exemption before using any services on campus. Students who submitted their vaccine cards last fall will not have to re-submit one for the spring semester. 
Grossmont will be offering 50 to 60% either in-person or a hybrid of online and in-person simultaneously. The overall goal for the administration in the spring is to reconnect with students and community members by planning enrollment management workshops on each of our campuses in the spring, focusing on student re-engagement and impactful strategies for student access and success. 
Eddie Dempsey stopped going to Grossmont due to online classes during the pandemic. When asked if he would consider returning to class again in the spring, he said: "I know I need to get back to school, but I'm honestly a little nervous since I haven't been in a classroom setting in almost two years. If I do go back, I think I will just start with some easy core classes and try and not take a full load the first semester back."
It's safe to say being back on campus is a must for many, many students are happy to be back, and many more will be returning in the spring and fall. This bodes well for Grossmont, and hopefully, we can see this campus alive and growing again, filled with students and new ideas.