Grossmont's Unvaccinated Frustrated and Demanding Answers
Grossmont's unvaccinated students and staff are not receiving their requested accommodations and they are letting the district know their frustration.
Grossmont College recently began its termination procedures for its unvaccinated employees. 
Up until Feb. 22, employees were allowed to work remotely regardless of their vaccination status. Since that day, dozens of employees have been met with the choice of using their accrued time, vacation or sick hours to remain employed or face termination.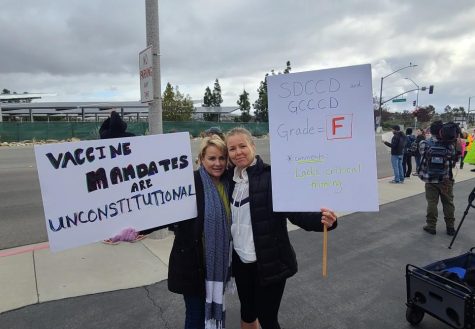 Many staff members had to choose between remaining unvaccinated or accepting the offer from the district to use their accrued time, but that does not mean they are happy about it. It simply became a decision to keep your job and benefits or have your employment be terminated if you choose not to use the accrued time.
Several of those staff members held a rally on the morning of Feb. 22 to respond to the district's policy on unvaccinated employees.
Carolyn Fisher, a tutor specialist for Grossmont, explained they were looking for answers as to why they cannot give staff the accommodations they are requesting, such as working remotely or getting weekly tests. They contend that it was not an issue last semester, or even for the first three weeks of this spring semester, and that much of the communication from administration has been inconsistent.
With California recently loosening restrictions and removing the mask mandate for the vaccinated, in-person events are again permitted in many familiar settings. This leads these employees to wonder why they are not allowed to work remotely by choice. 
The district released the following statement in response to the complaints staff has had on the issue: "The health and safety of our campus community is our top priority. Our students, parents, and employees want to feel safe, and we take seriously our responsibility to protect them, including young children at our Child Development Centers. Our campuses overwhelmingly support a COVID-19 vaccine requirement, and we are pleased that more than 90 percent of our permanent employees are fully vaccinated. Our district offers medical and religious exemptions, and we have approved 99% of exemption requests. We carefully review each employee's work situation to determine if they can still safely work. In some cases, exempted employees are working remotely, or onsite while maintaining distance, wearing a mask, and getting tested. We look forward to continuing to work together to maintain the health and safety of our community."
Administrative Assistant Patty Sparks said she was approved for her religious exemption but was not given her accommodations. This included being on campus, testing weekly, wearing a mask and practicing social distancing with her colleagues, just as other districts have allowed.
The district remains firm in its decisions, and unvaccinated staff are wondering why the district refuses to give these accommodations to its employees. University of California San Diego has given its employees the option to hold in-person or online classes. In contrast, the in-person courses require staff members to be fully vaccinated but still give the unvaccinated a choice to work from home and keep their jobs.
In the end, these staff members said they are looking to re-establish a line of communication so both the district and the unvaccinated employees can come to a better solution that doesn't require a drastic measure, such as termination.