First Steps
Members of Grossmont's Speech and Debate Team experience their first tournament.
Many people get excited to start new things, whether out of curiosity or necessity. Nothing beats the excitement of experiencing something new for the first time. 
Well, the novices on Grossmont's Speech and Debate team got to experience that excitement as they competed in their first tournament in February. The team competed online via Zoom at the Tabor-Venitsky Invitational Tournament, hosted by Cerritos College in Norwalk, California.
New members Virginia Simpkins, Athena Kendzor, Dominic Alianelli and Nima Toussi competed in the novice events, while returning members Julian Mackenzie and Will Harris competed in the open events. 
The competitors had mixed feelings of excitement and anxiety, but  Simpkins said she felt only exhilaration after her first tournament. 
"This first one," she said, "it's a taste, and I want more." 
Simpkins competed in the novice informative event, where she placed third out of the 12 competitors there. She said her speech was about how the medical model, which stated that mental disorders are biological, is a narrow view of mental illness.
"
"This first one, it's a taste, and I want more." 
— Virginia Simpkins
"The medical model is narrow in its biological view, and it doesn't take into account of the whole person," She said, "The inborn temperament and environmental factors growing up as a child affects who we are." 
Simpkins is a certified peer support specialist who's dealt with mental disorders of her own, and she helps others deal with theirs. She said she's very passionate about speaking out on mental health, which showed in her speeches. She said she didn't fear speaking about mental health in front of people and how public speaking was where she needed to be.
"I'm so alive when I'm sharing," Simpkins said.
Another student who was excited about her first tournament was Athena Kendzor. She competed in the novice impromptu event, where the speakers were required to create a whole speech from a random quote with only a small amount of time to prepare.
Impromptu speaking involves a lot of quick planning and thinking, and Kendzor said she was a little nervous before she started but felt great afterward. She said she was happy overall that she got to compete in her first tournament. 
"I really enjoy the thinking on your feet aspect of this event," Kendzor said in an email. 
After tournaments, the competitors get ballots from the judges with feedback on their performance. Kendzor said the judges suggested using more specific examples in her speech to support her points. 
Alianelli is another new member who competed in this tournament's novice impromptu event. Like Kenzdor, he said he was nervous at first but had a feeling of excitement afterward. He even said despite being reasonably comfortable with public speaking, he still gets a rush of adrenaline. 
Alianelli said he enjoyed his first tournament and was looking forward to getting better. "Tournaments are always good in highlighting what you still need to work on as a speaker," he said in an email. 
Despite all these students enjoying their first speech and debate tournament for Grossmont, they have yet to perform in an in-person event. COVID has caused the program to go online for its competitions for the time being. 
Alianelli explained there were pros and cons in competing in online tournaments. He said it's easier to compete when he's behind the camera, but challenging to maintain a relationship with his audience. 
"It's harder to connect with the people in the audience when you're just staring at a little dot on your laptop," he said. 
"
"It's harder to connect with the people in the audience when you're just staring at a little dot on your laptop."
— Dominic Alianelli
He wasn't the only one who felt this way, as Kendzor said she didn't like online tournaments and was looking forward to competing in an in-person event as well. She said she finds it challenging to do public speaking online and that public speaking is "an art that's meant to be done in person." 
Simpkins said she also preferred to have competed in person, like her other teammates.
"Zoom, unfortunately, felt very confining for me," she said. "To have to stay in a box and not have a full stage." 
Simpkins said the energy that would typically come from an audience was lacking in the Zoom meeting. She also said that she's prepared for online tournaments becoming a part of the future of speech and debate competitions. 
Overall, the competitors seemed to enjoy their first tournament on the team. Despite not being the biggest fans of the online format, they still managed to have a great time and learn a lot about themselves as public speakers.
The speech and debate team has a few more tournaments before state and nationals start, and with the new members' enthusiasm, the rest of the season is looking very promising for Grossmont.
View Comments (2)
Your donation will support the student journalists of Grossmont College. Your contribution will allow us to purchase equipment and cover our annual website hosting costs.
About the Contributor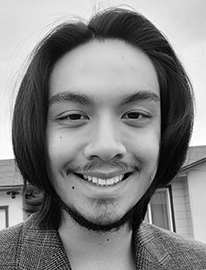 Marc Cordero, Staff Writer
A 20-year-old public relations major who is a die-hard Lakers fan. Loves playing Rocket League, listening to Kendrick Lamar and collecting sneakers.