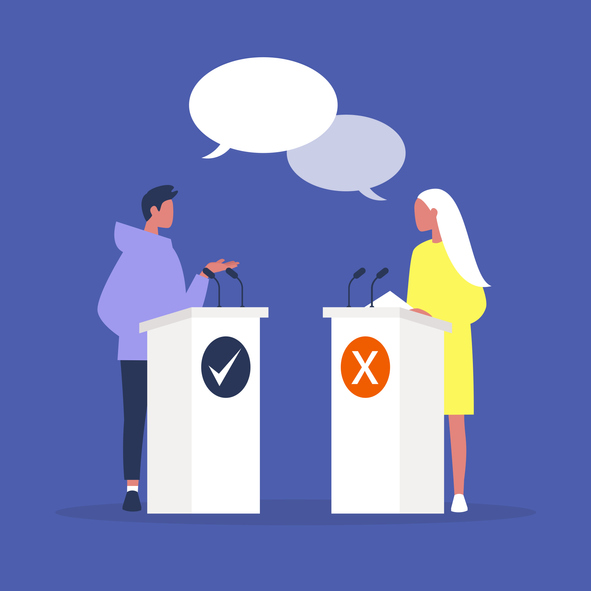 Speech and debate, also known as forensics, is an academic activity commonly practiced in high schools and colleges. Grossmont College also has a team, and students attending the campus are more than likely to participate in this class if they've done debate before. 
For the past 32 years, Communications Department Co-Chair Roxanne Tuscany has been the head coach for the speech and debate team. Alongside her is Communications Professor Michael McHan, who has been the assistant coach for the past four years.
The team members, who are enrolled in an academic course, are part of an international organization that competes with two- and four-year colleges all over the country. 
A common misconception is that speech and debate are one entity, when in reality, they're different. Some students may shy away from joining the team because they aren't interested in the performative aspect of debate or dread public speaking. 
"We compete in things that sound like poetry slams. We compete in poetry, drama, readers theater," Tuscany said, adding that some parts are closer to acting and others to impromptu speaking. 
The team travels to San Diego and Los Angeles for competitions. Past teams have traveled to compete in various countries.
"I have taken the team to China. We've also competed in London, England. During COVID, we still competed online. Just last year, we went to Tokyo, Japan," Tuscany said, adding that the team is planning on attending their international tournament in Dublin, Ireland, in 2024.
While in class, the team performs vocal and physical warm-ups. They practice their presentations and are evaluated by their coaches.
"My favorite part of my job is to help students discover their own voices and find out what owning your voice can do for your quality of life and success," McHan said.
The time and practice the team puts into speaking in front of audiences helps build the members' confidence. They become more assertive and can easily put words together in persuasive ways.
The students work as a team to help build their communication skills. Being a part of this experience can also help boost their resume.
"I see how students' thought processes change. To be able to think more critically and to see how the world takes place around you is an important perspective to be able to gain," McHan said.
The experience on its own is one to help students become better versions of themselves as well as gain the ability to better work in teams, all of which can lead them toward a brighter future.