The Not-So-Subtle Side of Austen
"Pride and Prejudice" Director Shana Wride discusses the upcoming production.
Some say that drama is hard, but comedy is harder. It takes a very particular talent and skill to elicit laughter from an audience, and if done incorrectly, falls very flat. But Playwright Kate Hamill is able to take the more subtle and nuanced comedy from Jane Austen's "Pride and Prejudice" and find the slapstick in it.
The Stagehouse Theatre at Grossmont College will be producing this comedic version of "Pride and Prejudice" during the month of March, and I was happy to interview director Shana Wride about the production. In fact, I had the pleasure of seeing Wride perform in the show at Cygnet Theatre as Mrs. Bennet several years ago. I enjoyed it so much that I saw it multiple times; it made me genuinely laugh out loud. After one of the shows, I complimented an actor on his performance and let him know how good his comedic skills were. "Thank you, I could hear your laughter in the audience," he said. Color me embarrassed.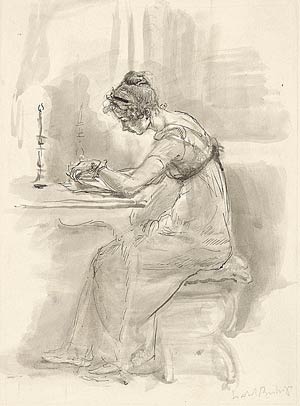 Wride was wonderful as Mrs. Bennet, with the meddling and match-making antics heightened to 11. "The show at Cygnet was a lot of fun because I was surrounded by some of the funniest people on the planet,"  Wride said in an email. "We enjoyed each other very much. This is an ensemble piece, and it's essential that everybody that's working on the show is part of a team. And I was surrounded by a great team."
She now is taking on the role of director for the show, something I am very excited to see. It's pretty obvious when a director doesn't understand the show they're involved in, so having a director spend months on the material, having literally memorized it, is very reassuring.
I'm always interested to see which shows Grossmont chooses for their theater students to perform, and this is a unique choice.
"I think Kate Hamill's 'Pride and Prejudice' is a perfect show for theater students for a variety of reasons," Wride said. "First of all, as I stated above, it's an ensemble piece so you can have a large group of student actors coming together and learning what it means to be part of an ensemble. Many of the actors also play multiple characters, some of which are outside of their gender, so it's an awesome opportunity to stretch your creativity."
The show does indeed feature gender-swapped performances, to an acceptable and wonderful comedic effect. "It's an adaptation that takes great liberty while at the same time honoring the original," Wride added. "It's a very delicate balance. It has been wonderful to work with these talented, courageous, and intelligent students on this wonderfully ridiculous and fabulous play."
I asked Wride about her past experiences with Grossmont since the college has such a well-known and revered theater program. "I have never directed for the college, but a long time ago I went here and did a couple of shows," she said. "Going to Grossmont was an integral part of my education. I ended up getting my master's at San Diego State University, and I would never have been able to do so if I hadn't started at Grossmont."
Some classic literature, especially Jane Austen, can often be hard to take in. It is a very old-fashioned kind of English and may not always come easily to someone. Seeing a piece of work on stage with visuals allows for stories to be absorbed in a completely different way
"This is a modern adaptation of a classical piece, so in many ways, you get the best of both worlds," Wride said. "There might be those purists who aren't quite sure what to do with Kate Hamill's 'Pride and Prejudice', but I say leave your expectations at the door and just have a good time."
Jane Austen is known as one of the most famous female authors of all time, so it is fitting that Grossmont will be producing the show during Women's History Month. It features witty, classic dialogue, some good old-fashioned slapstick, lovable characters (as well as those you love to hate), and a heartwarming ending to tie everything together. This will be a fun show for The Stagehouse Theatre, and I cannot wait to see it.
"Pride and Prejudice" will be playing March 17-19 and 24-26 at 7:30 p.m. There are additional performances March 19 and 26 at 2 p.m. Tickets are available by calling 619-644-7234; discounts are available for students, seniors and the military. Click here for The Stagehouse Theatre's policies and procedures.
This article originally appeared in the March 2022 print issue of The Summit.