Weekend To Remember Coachella 2022
After a two-year hiatus, Coachella Fest is finally back and Gen Z made their first impression on the event's new beginning.
Alive, artful and astonishing: Coachella's resurrection was a communal reception of good vibes and good music. 
With headliners consisting of The Weeknd, Harry Styles and Billie Eilish, this year's lineup created a lot of anticipation and high expectations. After the festival's two-year hiatus and Ye's sudden dropout, skepticism arose around whether it could carry on the lively energy of previous years. 
Day one of the second weekend was concluded with a dynamic performance by Harry Styles and Lizzo that exuded pure, unadulterated joy. The moment Lizzo stepped onstage, the crowd exploded in excitement as she and Styles sang a duet of Gloria Gaynor's "I Will Survive." 
"Getting to see 'As It Was' sung in person and being able to physically see Harry and his tattoos was insane to me," said Olivia Wiemholt, a first-time Coachella attendee. "I could literally almost reach out and touch him."
Many fans of Styles also expressed how special it was to hear his song "Medicine" live that night. Styles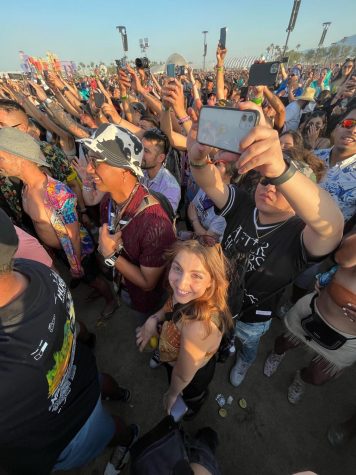 even dedicated a special performance of "Canyon Moon" to its producer, Kid Harpoon, as a birthday gift. 
It was thrilling watching the duo bounce off each other's energy; their gratitude for the ability to perform in a crowd abounded in their stage presence. The two's performance was a generous exchange of zealous passion as they both fell into a familiar yet exciting groove. 
"Life is all about moments, and this is one I will not forget," Styles said emphatically at the night's close. 
The enlivened spirit of that night carried on into the next day's round of sets. On day two of the second weekend, the lineup encouraged everyone in attendance to, as Eilish put it, "Just have fun." 
Eilish performed as the youngest person to ever headline Coachella. She was humble and animated as she exclaimed she shouldn't be headlining the night. The Gen-Z artist held the audience in raptures during her visually captivating performances. She brought out Paramore frontwoman Haley Williams to amp up the pop-punk vibes Eilish curated in her setlist. 
The same day artists like Beach Bunny and Girl in Red kept the crowds jumping with their infectious energy and audience engagement. The excitement didn't lose momentum and only grew moving on to the next day. 
Maggie Rogers's performance during the second weekend was the day before her 28th birthday, and she celebrated her last day of being 27 with cheers from festivalgoers. It seems a feeling of permanent celebration permeated Coachella's atmosphere this year.
When speaking to some festival attendees, the joy was truly oozing from their smiles as they describe their experience as "positive vibes all around." 
During the third day of the second weekend, Doja Cat came onto to Coachella Stage and delivered an exciting and creative performance worthy of headlining act. Doja Cat's presence at Coachella was a testament to the way Gen-Z is changing how music trends. With a viral star like Doja, the younger generation overtook the audience for her set and even started singing the Krusty Krab pizza song from Spongebob while waiting for her to come out. 
That collective experience was silly yet incredibly unifying as many of the young people there felt bittersweet gratitude for the present despite all the encounters they missed the past two years.
The Weeknd stepped in on the third day to take the place of Ye (formerly known as "Kanye West") after he dropped out only a few days before the festival. Paired with Swedish House Mafia, the party energy accumulated and the last weekend of this year's festival was at its climax. Despite Ye's dynamic and entertaining performances being missed, this set was an amazing close to the eventful weekend. 
Many college-aged festivalgoers said that they want to come back in future years because of the great time they had. They all had lots of their own ideas on who they would like to see at the festival next year.
"My dream Coachella lineup would have included Frank Ocean, Tyler The Creator and The Lumineers," Wiemholt said. "I would have enjoyed seeing Joji perform 'Slow Dancing In The Dark' this time around, but I can't complain; the lineup this year was insane.". 
Spending hours in the dusty desert in direct sunlight definitely doesn't sound appealing when you first hear it. But Coachella's overall atmosphere and mood make the very uncomfortable environment all worth it.
Coachella is most definitely not perfect. You might spend an arm and a leg on a cup of fresh-squeezed lemonade. Or you could be packed into a tight crowd like a literal sardine. And you might go home with dirt caked on your face and body. 
However, being able to enjoy live music in big groups again is a gift that shouldn't be taken for granted and at Coachella 2022, it was enjoyed to the fullest extent.