It's All In The Timing
For Grossmont Theater's final production of Spring 2022, Broadway's Geno Carr directs "All In The Timing" in a full-capacity theater.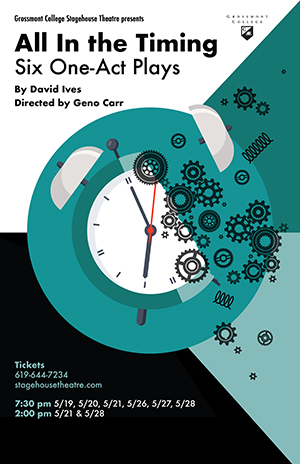 A six-act play is no easy feat, but the company of "All In The Timing" – written by David Ives and directed by Geno Carr – is facing the daunting task head-on. 
The six acts are as follows: "Sure Thing," "Words, Words, Words", "The Universal Language," "Philip Glass Buys a Loaf of Bread," "The Philadelphia" and "Variations on the Death of Trotsky." 
The comedy contains themes of absurdism and surrealism; it also comments on capitalism, relationships and the human experience. Ives' use of language expertly balances wit and evocative analysis as a means of expression for his existentialism. 
According to Fletcher Morrow, who is also double-cast as Swift and Don, this production's central message is to "stop taking things so seriously." Their rehearsal reflected this as the actors developed their physical comedy skills with Carr, accompanied by a hearty portion of giggles and utter silliness.
Stage manager Becca Moore explained the different styles of each act are what make this show uniquely special. She added it has been fascinating watching each one progress. 
"I'm excited for the audience to connect to each world that each act has built," said Jacob Human, who plays Mark in "Philadelphia." 
The show has an advanced view of abstract concepts – like intellectual ethics and the human condition. It also takes on an intimate perspective of relationships and how people view themselves as members of their community. 
"I feel like my character as Dawn will resonate with a lot of people," says Public Health Major Natalia Harris. "At the beginning of the scene, she's very shy and withdrawn because she doesn't feel accepted in society due to her stutter.
"Eventually opening up to people can be really difficult, but it's a beautiful thing," Harris continued.
When asked what they would tell the audience before they saw the show, several cast members made interesting contributions.
Grubstad said: "I would tell them to expect the unexpected. You get lost, but in a good way," said Grubstad.
Cole Atencio said: "Come into this show looking for absurdity and prepare to leave it without understanding everything you just saw. The whole point of this show isn't to understand it. It's to feel it."
Carr also lent a thoughtful word for audiences to consider initially, especially after the events of the past two years.
"I think the audiences should come into this knowing that we're all coming out of a very crazy, isolating and, in many ways, sad time," Carr said. "You're going to leave having laughed a lot and hopefully forgotten a little bit about the not-so-great stuff."
With Stagehouse Theatre being back at full capacity after some pandemic restrictions were rolled back, "All In The Timing" is an excellent show to enjoy with your family and friends. 
"All In The Timing" will be running from May 19-21 and May 26-28. To order tickets, call the Box Office at 619-644-7234.