It's not a myth, Grossmont really did have a cheer team at one point.
You know about Griffin football, basketball, baseball, volleyball and now you are about to know Griffin cheerleading one upon a time.
Anyone who has attended a Grossmont College football or basketball game has probably noticed a fun crowd, lots of school spirit, and players working hard and enjoying what they do. 
However, some may have also noticed there is no group also wearing Griffin uniforms cheering on the side. Once upon a time, the college had a cheerleading team. It started in the 1970s and continued through the mid-2000s.
Grossmont College Football Coach Michael Jordan had some knowledge about the former team. Jordan stated the cheer team went away for a little bit and then made a return in the '90s with a new coach, Allison Bobrow.
Bobrow attended Patrick Henry High School in San Diego, cheered with the West Coast Mavericks and attended the University of Washington. Grossmont was her first stop after finishing her time in Washington.
"We had a lot of fun," said Bobrow. 
Tryouts were usually held in the spring, and one interesting fact is that there is no recollection of a Griffin mascot– not that one was needed with how well the Griffin cheerleaders stole the show. 
The cheer team would travel with the football players and attend their away games. Bobrow mentioned one of the team tradit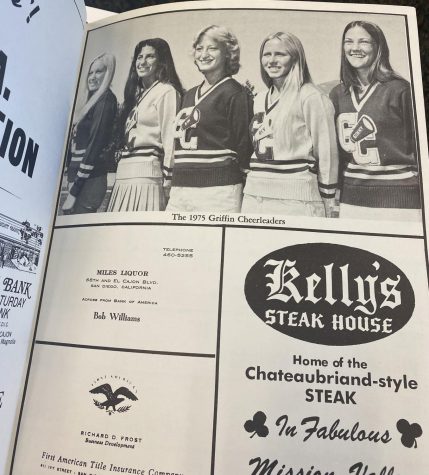 ions was she would take the girls out to dinner after a game once a season. 
Cheerleading uniforms have evolved quite a bit. In one of the photos, the cheerleaders are wearing shorts and a belt, which, now is uncommon for a cheerleading uniform, but it worked back then. It evolved from polos and a skirt to a green, black and gold short-sleeve top and skirt.
When asked what Bobrow's favorite part about being a coach was, she said, "being a positive influence in their life and day. The friendships and watching the girls bond, improve their skills and so many fun memories." 
Bobrow may no longer be coaching; however, she does have her own jewelry line called Allison Claire, which s
ells jewelry representing your current or former college.
One day Grossmont will hopefully have a team again, bringing that spirit and smiles back into the crowds, but in the meantime, this was a fun stroll down memory lane and a few fun facts about our former cheer team.