Arabic Club hosts April events
Arabic Club celebrates Arab American Heritage Month.
Grossmont College's Arabic Club hosted seven different events in April to celebrate Arab American Heritage Month with students.
The first event the club presented was the Introduction to the Arab World, where club members presented basic information about each Arab country. In the presentation, students were encouraged to both answer and ask questions so there would be more interactivity.
"That makes it much more interesting than maybe just giving them a lecture," said Sonia Ghattas-Soliman, the advisor for Arabic Club. "I think the time of lecture is gone."
They followed up with an event on Easter in the Arab World on April 6. Here the club discussed how the holiday is celebrated in different parts of the Middle East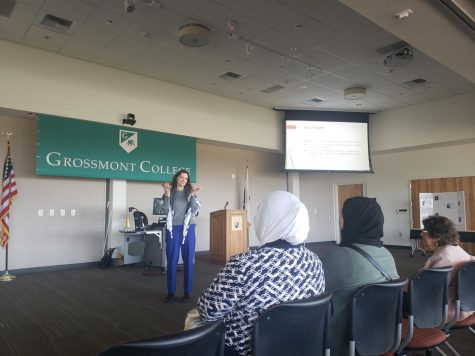 and its history. Not as many students showed up to this event, but those who did engage in the topic by asking questions.
"I think it's very good, that way they get to know us more because I have seen that in the Islamic religion or Arab culture," Student Lucero Flores, a member of the Arabic Club, said. "I would say that religion and culture go together all the time."
Other club events last month included the Ramadan Iftar Night on April 12, Day in the Life on April 17, Arab Countries Showcase on April 19, Middle Eastern Music on April 20, and the Arabian Tea and Coffee Gathering on April 24.
Ghattas-Soliman said the highlight event for her was the Arab Countries Showcase because "it represented different activities." In this event, students were able to go to the quad on campus and see various booths where members of the club would present information on different Arab countries.
The club also had a calligrapher present who would write down the names of students in Arabic using a variety of styles.
"He wrote the name of the chancellor, the dean, the president, and even the students and attendees wanted to have their name written, and what's nice about it is that they can frame it," Ghattas-Soliman said. "It's also giving an idea about the Arabic arts."
Some of the students in the club provided a similar service by making bracelets customized with Arabic letters chosen by the guests.
"Some people asked for their children's names, a member of the family," Ghattas-Soliman said. "So that was also something which attracted people."
Also included in the event were guest singers and local entrepreneurs who displayed and sold merchandise, including art. The singers were two 15-year-old twins accompanied by their mother. They presented in both Arabic and English.
"Everything they did was extremely well done," Ghattas-Soliman said.
The good turnout of this event was a little surprising because when the club has had similar events in the past, Middle Eastern cuisine was provided. Instead, due to Ramadan, only bagged snacks were offered so that those who were fasting could eat at a later time.
"Well, it's like you get lured in more when there's food," Flores said. "That's the biggest one."
When asked if she felt her goals were accomplished, Ghattas-Soliman said: "I wouldn't say 100% because you are never really happy 100% with the results. If you were then I would think at that point you are not trying to improve or you are not trying to do better."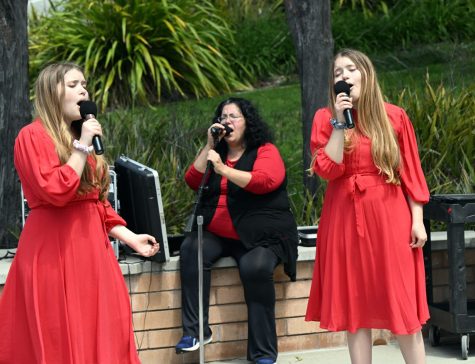 She said she thought some of the preparations could have been done sooner and the advertising could have been done better so that there could have been higher attendance.
"So I guess now we have to look at each one of the events that we had and see exactly how in the future we should make some change, we should add, we should improve and that is extremely important," Ghattas-Soliman said. "Self-assessing is extremely important if you want to present a valuable experience to people."
One plan for a future event outside of Arab American Heritage Month is an end-of-semester party for graduating and transferring students.
"The fact that they achieved their goal and they are able to either get a degree or transfer and pursue more education," Ghattas-Soliman said. "This is something that we would like to celebrate with them."
She said she also wants to congratulate the students who immigrated here because they had to adapt to a different kind of school system and take classes like chemistry and math while also learning a new language.
"It's hard for someone whose first language is not English to take classes like those and to pass them," Ghattas-Soliman said. "So the fact that they're able to do that should be celebrated."
For those interested in the Arabic Club to learn more about the Arab World, you can attend club meetings on Mondays from noon to 1 p.m. in Building 100, Room 116.
"We organize all types of activities which will be appealing to different people, different tastes, different hobbies and this is really the lore of the club," Ghattas-Soliman said. "To bring people together."
Leave a Comment
Your donation will support the student journalists of Grossmont College. Your contribution will allow us to purchase equipment and cover our annual website hosting costs.
About the Contributor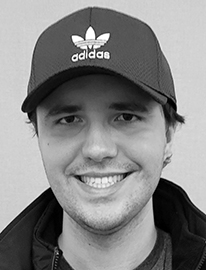 Jacob Houseman, Staff Writer
History and journalism major hoping to transfer to SDSU. Spends his free time reading books, comics and playing games.