Checking out the new Griffin Center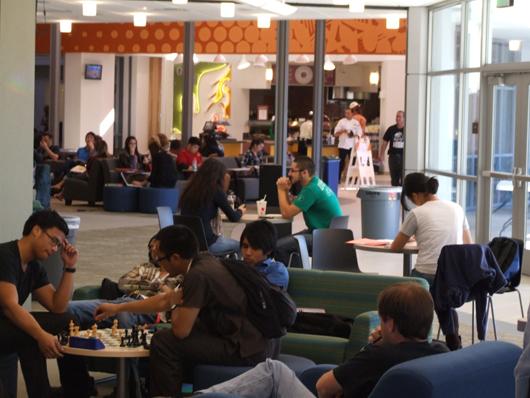 GROSSMONT COLLEGE– Griffin Center, the students' new "sanctuary,"  is a place where students are able to eat, relax, and study.
Approaching the newly constructed, two-story building from the Main Quad, near the signature belltower, visitors see are the palm trees and the boulders outside of the automatic doors.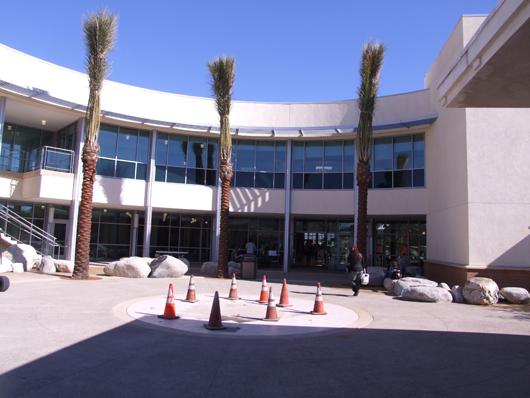 The second floor with lounges and offices may be accessed by outdoor or indoor stairway or by elevator.
On the first floor, at the right of the main entrance, is a food court, with four different eating place..  These include the Griffin Grill offering such familiar food as hamburgers and  hot dogs; a Mexican restaurant; Get Fresh, focusing on salads, and La Vincita, featuring Italian style foods.. According to Josh Duffield,  a second-year student,  the food is "better than last year"
Duffield described Griffin Center as "a place to just chill and do homework."  It's also a place to escape from the cold weather, he noted.
The complex is complemented with a variety of flat screen television sets. According to Melissa Moore, a front window assistant, for the Associated Students,  the TV's will be on and running as soon as the construction workers complete some final touches on the center.  In a lounge to the left of the main entrance is a large screen suitable for showing movies.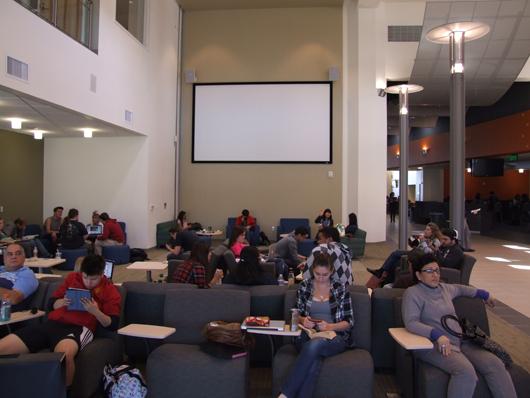 Moore said that ASGC will decide what the will be shown on the TV's, however popular speculation is that news and some sports events will be featured.
Near the opposite entrance of the building is the Student Health Center.  Other offices are tucked away throughout the building, including those of the Associated Students of Grossmont College and Dean of Students Agustin Albarran.
*
Burke is a reporter for the GC Summit.  He was joined in scoping out Griffin Center by reporters Jacquelyn Papin, James Spillane, and John Weber.  Any of these writers may be contacted by writing that person's first name and last name divided by a dot @gcsummit.com