The Art of Body Language
In Hyde Gallery's first exhibition of Spring 2019, a group of talented artists demonstrate the power of body language through their art.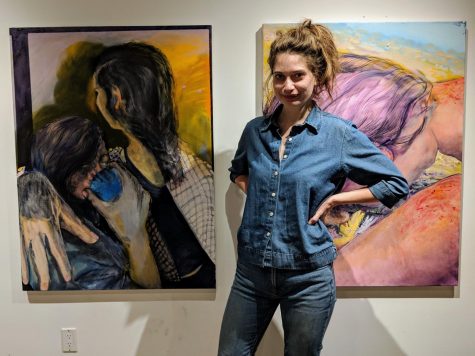 Body language can convey your innermost thoughts and feelings in ways that words simply can't. We are communicating through body language constantly, whether we realize it or not.
This is the theme of Hyde Art Gallery's first exhibition of spring 2019, "Body Language," an artistic showcase of the emotive power of the human body. The show features the talents of local artists Armando de la Torre, Chantal Wnuk, Gloria Favela Rocha, Hugo Crosthwaite, Mario Chacon, Misty Hawkins and Victor Ochoa.
The group exhibition is free and open to the public until Feb. 26. Located in Building 25 , the gallery is open Monday through Thursday from 10 a.m. to 6 p.m. The exhibition was curated by professor of art, Jennifer Bennett, and gallery director, Alex DeCosta. The artwork being exhibited ranges from intimate portrayals of the naked body to figurative representations of the human form.
"What's interesting to me is to make art that is personal," said Hawkins, one of the featured artists. "I feel like there's a purpose in that for me, creatively."
Hawkins studied painting and drawing at Tyler's School of Art in Philadelphia. She now teaches life drawing at Mesa College. Her paintings are deeply personal to her and some feature nude subjects. Some are also self-portraits.
"I'd like women to recognize a positive depiction of their own bodies." she said. "I hope that people will see a wide range of possibilities for the figure and, personally, maybe my art will give them something to think about for a while."
Another of the featured artists, Wnuk is in the third month of her artist residency at the San Diego Art Institute in Balboa Park. She attended the University of Texas in Austin for visual arts and her father is a professor of painting and drawing.
Usually the eyes are how you show someone's personality," she explained, "But I've been trying to work on other ways to show personality besides the face or the mouth. So I use hands, hair, or posture to show how someone is feeling."
In her studio, four large work-in-progress pieces are displayed on the same wall. Human figures are depicted with their faces turned away or concealed in some way. While many of her subjects appear alone within their respective canvases, Wnuk said her paintings are really more about "human connection."
Prevalent in her paintings are "the themes of vulnerability and strength.
"What makes us stronger and what makes us weaker?" she said.
Wnuk uses many symbols to illustrate these themes such as "a spilling water glass, which is a small tragedy, but the water will dry."
Glancing at her wall of paintings she continued: "I hope that people connect to these small vulnerabilities that many of us feel moving through the world… and realize that others feel that way all the time too, and feel comfort in that, and maybe also see the humor in that."