Grossmont Finds a New Sound
Including styles of Indian, Persian, Arabic and Flamenco music, The Middle Eastern Ensemble is ready to show Grossmont what it's all about.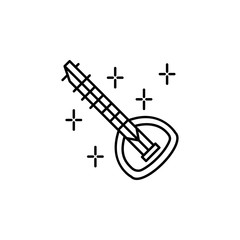 This semester, Grossmont College introduces The Middle East Ensemble, a community ensemble specializing in
music from the large geographical area of the Middle East. Adjunct Professor Farhad Bahrami was offered to teach
the course after being contacted by the chair of the Music Department and former undergraduate classmate Derek
Cannon. Bahrami prepared roughly a year in advance after being contacted.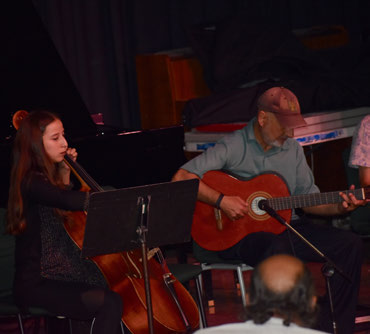 "I thought it was a prank," Bahrami said after he received a phone call from Cannon. "I thought he was kidding me, and I came in the next day and it was about this." With a double major in software and music, he continued
to progress in musical studies, earning his master's degree and playing with his children and friends. He had a niche for making "things work" in bands, so when he was invited to Grossmont to teach the new course, Music 142, he couldn't refuse the "honor to work with everyone here," he said.
The class is a test run for students to experiment playing instruments with a Middle Eastern influence. The students will be involved and work as a team, collaborating on learning new rhythms and pieces. Along with participating in group work, students will also individually seek their own potential.
On a whim, the class performed a short concert Aug. 21, showing students the kinds of music which the class will
be showcasing. Even though it was short notice, the class put on a wonderful performance of the different styles from the Middle East. Guests from the community and students came together for this opportunity.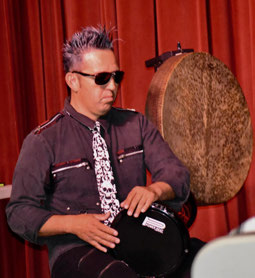 Hector Delgado, a percussionist who was invited to the short performance by Bahrami, was given the open invitation to perform. Delgado accepted, and on arrival, discovered the course and joined the scene. "I ended up being the percussionist," he said. Traditional instruments were played, like the well-known sitar, along with Westernized instruments like the electric guitar and cello during the small concert. When the first thought of Middle Eastern music comes to mind, one may not imagine Westernized instruments in this genre.
Karla Aguire, a student in the class, played her cello at the short show. She explained how there is a lot of traditional instruments that are similar to Westernized ones.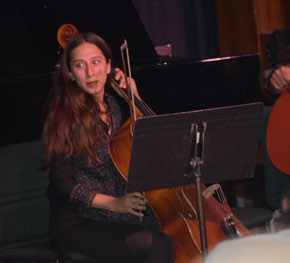 "A lot of Middle Eastern instruments are starting to have a picture in the Western world," she said. Studying mostly classical music, Aguire has expanded her knowledge, mostly through YouTube, listening to different genres and
cultures to get inspired.
She said she looks forward to learning the theory behind the music.
"There are semi-tones that aren't in basic music theory, so I'm interested in learning that and learning more about how to produce the genre and how to interpret it."
The class met for the first time Aug. 22. People came in with their own instruments, and Bahrami gave a history introduction.
"So defining it geographically, we sort of accept the super set," Bahrami said. "So if there's doubt it's part of the Middle East, we include Greek, maybe we include Flamenco; we include maybe Indian music, because people
interacted during those many thousands of years."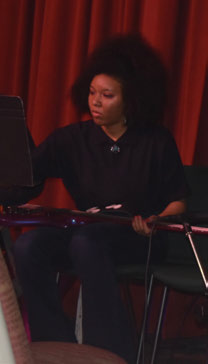 The class consists of listening to the tones and rhythms of the Middle East and reinterpreting it by ear. More advanced players would play on top of basic rhythms to add depth. People will be working to their own potential and schedule. Adding to the long list of ensembles offered at Grossmont, the Middle East Ensemble adds a new flare to the music department.
"I think it's a great opportunity to expand the music department," Aguire said.
"We do have a lot of international students here, so I think it's great for them to come here and listen to traditional pieces, maybe join and find a place." Bahrami said he aspires that on the horizon, the idea would play a larger part in
students' learning outcomes— to create a World Music Certificate Program or a World Music Jazz Certificate Program, offered by Grossmont.
"The students would get a little Middle Eastern or whatever else music because we do not wanna separate the music so much," he said "We want to benefit from each of them and sort of find where to dig deeper."
The class meets Thursdays, from 7 to 9:55 p.m., to learn new skills and the history of traditional music from across the world. The class is also preparing for a concert in December.