Spoiler Alert! Grossmont has a TV Studio
In the depths of Grossmont's Media Communications (MCOM) department, lies a secret few students are aware of: A room dedicated to the production of student ideas. For a community college, Grossmont is fortunate to have this technology. MCOM 117: Television Studio Operations is a class that introduces students to the behind-the-scenes world of television.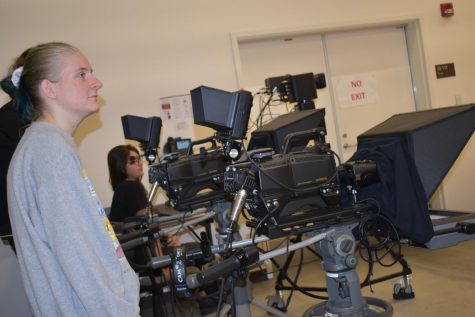 Adjunct professor Robert Lacher teaches the class. "The goal of this class is for students to learn how to operate all the equipment in our studio, which is very similar to any TV studio they may encounter in their career," Lacher said.
The TV studio comes equipped with a control room, complete with monitors, a soundboard and a video operating system to record all tapings. Beyond that room is where the magic happens. A vast studio that also doubles as a classroom comes complete with a green screen, lights and professional cameras. This class teaches technical concepts and creates a hands-on learning environment of media studio production. Each week, students decide on a skit that is three to five minutes long and the pre-production phase begins.
"They write their own scripts, and they direct them and cast them and produce a show in a week or maybe two weeks," Lacher said. Since students alternate positions, no job is repeated twice. "We have rotating roles for every shoot," Ryan Chenelle, a student majoring in audio said. The class has 13 roles, such as technical director (TD), camera operations and audio. This gives students a chance to experience it all. "They are pretty manageable positions," he continued.
Once someone has learned how to use a piece of equipment, Lacher usually advises that student to teach the next person for the next shoot. Students learn and teach each other as they go. One of the most prolonged jobs on-set is lighting; it takes Lacher and a student about an hour and a half to adjust. Students use and drive a lift to reach the lights.
"It is not something I thought I would be learning in school," Jason Eisengart said, a student enrolled in the class, who said being a lift operator and adjusting the lights has been his favorite job on set. Talent stands in place to make sure the lights strike them accurately. Attaching mics and adjusting audio ensures the production will get a clear sound; cameras are then dollied and focused on talent. Once everything is set up, it's show time. The student director calls out actions for every person to take their place and get ready to roll.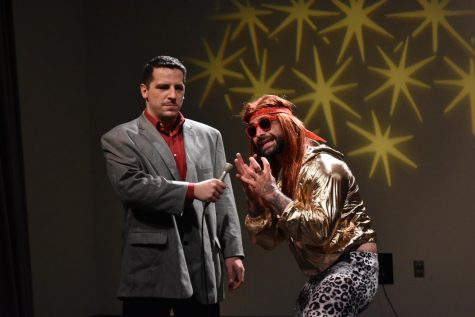 "Before I had not ever worked with a cast of people in a theatrical sense. It was really interesting to see what everybody was capable of," Nicholas Pflug, a student of the class said. He was one of the first students to direct the class in his horror-comedy "Chop Shop," a skit about a talk show where people are kidnapped, taken on the show, and have to answer trivia questions in order to save their organs. "It was very empowering," Pflug continued.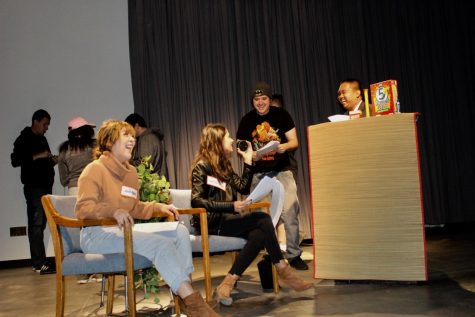 Directing a class with all of its parts "is the hardest; it's the most nerve-racking," Lacher explained."But it is also the one that students can learn a little more quickly just because they watch TV and movies all the time." The director takes charge of everything, from the talent to the sound cues, to ensure everything looks good. Everyone's job is essential; it takes a team effort to get the production up and running. "I think that being on both sides has taught me that it's everybody's responsibility to make the production good.
If it goes poorly, it's not necessarily the director's fault or talent's fault. It's not any person's fault," Pflug said. "If a production does not come out well, it's a lot of small commutative things," he explained.
So far, the class has been able to produce five short skits this semester. For example, "El Montey," a creative comedy directed by Carlos Figueroa, is about an interview with a very cocky wrestler. Similarly, "Brotherly Brawl," is a game show where two contestants have five seconds to answer a question. The brothers are always at war because they each have a favorite and try to get that person to win.
The skit was directed by Dominque Henderson and Daniela Sopher. "We have had some creative and well-written sketches to do," Lacher said regarding this semester. MCOM 117 is a "gateway class" into TV production and the managing of workability in the real world. It is also an opportunity for students who don't know what they are majoring in to step a toe into the film world. "It's the most fun you'll ever have while doing what you're supposed to be doing," Lacher sums it up.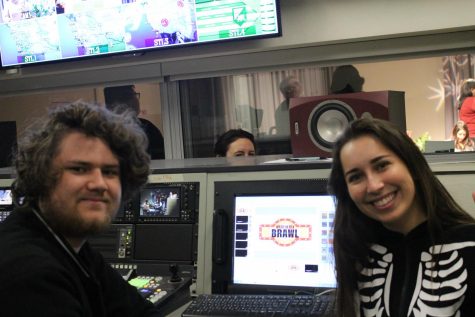 The class is open for anyone to take it, although MCOM majors do have priority. Not only will a student learn the ins and outs of television, but they will also learn how to work as a team. For anyone that took and loved MCOM 117, this course is getting a sequel. MCOM 217 is a follow-up course that is being offered next Spring semester, and it offers a more in-depth feel to putting production into reality.