Classical Guitar Magic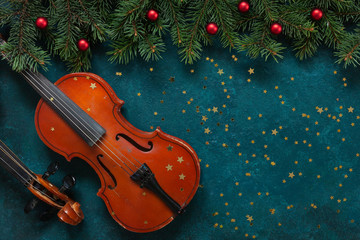 The Grossmont Guitar Ensemble gathered Nov. 17 for the first concert of the semester to present a program of varied musical compositions from Baroque to pop and rock. It was delightful to observe professor Fred Benedetti skillfully flourish his baton as the ensemble responded with flawless renditions of each selection.   
A proud Benedetti described the multifaceted group of musicians. 
"It is really a mixed ensemble with lots of guitars and it allows the guitars to participate in this music with the other instruments," he said.  Although the group focuses on classical guitar, it is really a miniature orchestra complete with octave guitars, contrabass, viola,vibes, cajon (percussion box), flute and piano played by a collection of musicians of all ages, including former students and other dedicated musicians.  
Experienced guitarist Sangbae Kim is a former student who returned to the class to refresh and update his skills to participate in the ensemble.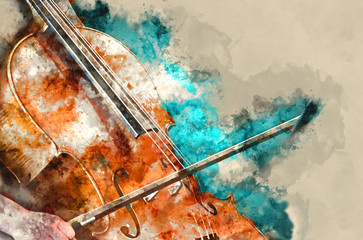 Palladio the first selection was written by Karl Jenkins in 1995 as a tribute to the Renaissance Italian architect.  Light and lively and punctuated by heavy guitars and violins, Benedetti identified the piece as Neo-Baroque.   
Some of the highlights of the concert included –
Grossmont alumnus and SDSU masters degree candidate Eric Dickerson, skillfully manipulated a 12-string lute solo to enhance the rendition of Sonata #4 in D minor.   

Student octave guitarist, Xavier Quintero independently arranged three of the eight 

compositions and student cellist Gabrielle Nagtalon skillfully arranged the final selection.  

Rabbit's Foot: The talented duo comprised of students Brendan Hilgerman and Jonathon Hanninen performed a haunting rendition of "Ventura Highway", a folk rock tune from the 70s written by Dewey Bunnell, a member of the band America who recorded the hit.  Hanninen the lead vocalist, remarked it was one of their favorites to perform.      
Solo guitarist Garret Peregud executed a flawless rendition of You've Got A Friend composed by Randy Newman and recorded by the iconic James Taylor.  
"My mother encouraged me to pick up an instrument and learn to play," said Peregud with a big smile.   
The ensemble completed the program with a meticulous rendition music composed for the 1983 film, Merry Christmas Mr. Lawrence about a WWII Japanese concentration camp and tolerance starring David Bowie. 
Student pianist Thomas Le adeptly manipulated the ivories  producing a tinkling sound reminiscent of Christmas bells enhanced by the percussion section .         
Beaming with pride, Benedetti turned to the engaged audience and exclaimed, "I love doing this and I get paid for it!" 
The next and final concert of the semester will be presented on December 08 in Bldg. 26 ; 220 at 2 p.m.