Sistahood
This all-women's club exists to build a community on campus for women of color.
With more than 30 clubs on Grossmont's campus, Sistahood remains the only active all-women's club. Since it was started, Sistahood's mission is, "To provide a safe environment where women of color can break stereotypes, embrace, empower and build a sisterhood."
Beyond weekly meetings, the club's activities include panels and even an upcoming trip to Los Angeles. Tasha Courtney, the club's president, has been with Sistahood since it was started in 2018 and is involved in planning all club events and meetings.
For meetings held every Tuesday, Courtney said she chooses a social justice issue to discuss. To encourage an open conversation, Courtney said, "I'll ask: 'What do you ladies think? Can I have your opinion? What does it make you feel? Have you ever been discriminated against?'"
Although Courtney has been in Sistahood leadership for three years, she said, "It's usually me learning so much about them and where they come from." Their group discussions range from current news topics to Snapchat stories of people sharing their personal discrimination experiences.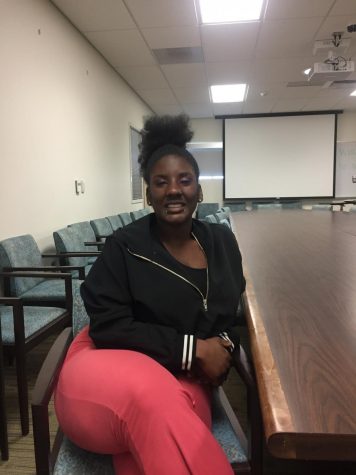 The panels hosted by Sistahood are meant to highlight women of color within higher education. Main speakers are primarily women involved with Grossmont, such as the vice president of Student Services, who hold a doctorate or a master's degree. Along with the speaking presentation, panels include a question-and-answer portion to engage the audience for further discussion.
One of Courtney's goals for Sistahood's future is to increase the club's size and make it well-known. Weekly meeting attendance varies from about 10 to 15 members, but Courtney would like to expand its reach. "They have been working diligently to create a much-needed space for women of color on campus," Sistahood Advisor Lina Kern, stated in an email.
The initial impact goes beyond Grossmont as Courtney also plans to continue Sistahood's vision when she transfers to a four-year university.
For the members, Sistahood is a safe place to relate with similar experiences or teach each other about new ones. "A lot of the members are from Africa, so it's always them telling me about the culture and what they do," Courtney explained. "The other day we were talking about in the African culture, they choose your marriage for you."
Sistahood exists as a safe place for growth and exploration for women of color. An example of personal growth through Sistahood is one club member who began attending club meetings but was very shy. After Courtney encouraged her to sit in the front and voice her opinions, she eventually went on to lead her own meeting. Courtney said the best part is encouraging women to be confident and love themselves.
"For me, I just never realized how important my voice is. When I first started this club I had so many fears: What if they don't like me? What if they just never come?" Courtney recalled.
Her fears have been debunked through her learning experience of leading Sistahood through the past semesters. "All women have issues. It's just different because they have a different skin color," Courtney said. "That doesn't mean they don't bleed just like us. We're all the same but it's just different backgrounds."
Although March encourages the celebration of women's month, Sistahood has been consistent in building a community for Grossmont's women of color. Through conversations and relationships with each other, Sistahood members are an example of supporting women every month of the year.