Gourmet at Grossmont
Culinary Arts serves up $10 gourmet lunches on campus.
Are you looking for a gourmet-quality lunch that only costs $10? Well, look no further, because Grossmont College Culinary Arts have you covered! Culinary Arts students who are enrolled in Principles of Buffet and Catering 173 with instructor Valarie Carlone Baker put the lunch buffets together.
The course is designed to "include methods and procedures needed for catering and buffet service including table arrangements, decor, physical layout, and decorative carving techniques. Students will also prepare pâté, gelatin, marinated salad, smoked fish and charcuterie."
Baker explained what someone can expect from coming to this event.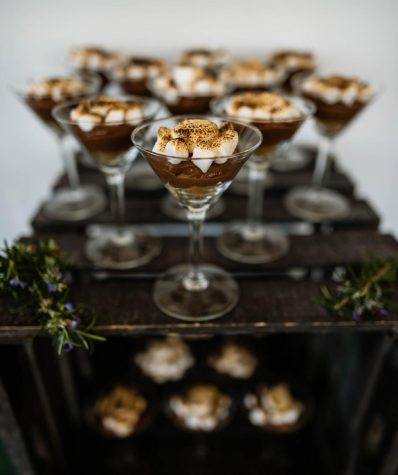 "They should expect one of the nicest lunches we are going to have on campus," Baker said. "You're getting really high quality. Our students are very dedicated and they love to express themselves… they're just motivated in every single dish; they put a lot of love and care into it."
For the Valentine's Day lunch, the menu featured a chocolate fondue fountain and a donut wall. Baker said her students were so dedicated they even replaced plain sprinkles on the donuts with crumbled-up Girl Scout Cookies.
Culinary student Natapong Thamcharoen said: "You get to know how to work in a team and have self-discipline. It's pretty much all about teamwork.
"This class is buffet and catering so we learn a lot about how it works, how we handle obstacles like serving 50 people, getting everything ready before the guests come in," Thamcharoen continued. "I have learned a lot from this class."
The lunch buffet has various themes. For example, their last buffet lunch was house party-themed. Food included a watermelon salad with feta, pasta carbonara, steak fries with short ribs and Gouda cheese to name a few of the dishes. For dessert, they offered a churro bar and for refreshments, they had a blood orange spritzer.
Grossmont College Culinary Arts Coordinator James Foran said the money made from the tickets will go toward field trips for the culinary arts students. The buffet lunch has two more dates coming up: April 7 and May 12. The next themes include a family-style dinner and BBQ party.
A Grossmont culinary art student, Brion Allen, who is currently taking the course, said: "It turned out to not only be a great place for learning but also networking, meeting people in the industry. I was able to get my first job here and move forward in the culinary industry through the professors and through the students here. So it has been a great way to expand."
Allen also mentioned that a student who wants to succeed in this class must have a passion to succeed.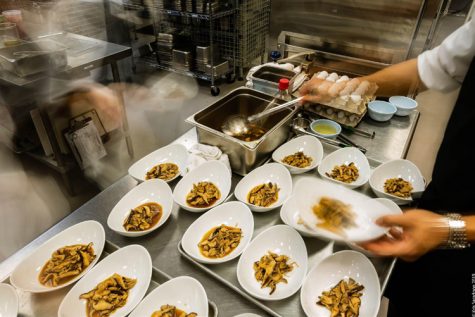 To support the Culinary Arts program, purchase buffet and catering lunch tickets at grossmont.edu on the Culinary Arts Department page. Print the tickets, which cost $10 plus processing fees, and bring them to Building 60, Room 177 at noon on the day of the event. According to the website, this is a first-come, first-served event, and food must be consumed on the premises.