Peach Pit: The Sound of the So-Cal… From Vancouver
Experiencing a dry spell in music? Indie rock group Peach Pit proves to be a refreshing find.
It's May and summer is on the horizon for Grossmont students. With that comes the anticipation of letting go of school for a couple of months and enjoying all the opportunities that June, July, and August have to offer. It's more than freedom, it's a release. It's as if a massive burden is lifted off our backs and all that's left is a peaceful, easy feeling. There's no arguing the excitement of summer that comes to visit this time of year is a wonderful thing. Now, if in some way that same feeling was put to music, it would perfectly describe the chill, carefree vibe of Peach Pit. 
Grossmont student Dannie Ibarra is an outspoken fan of the band, saying: "I love Peach Pit. I have seen them twice in concert and was supposed to see them a third time in June. I would recommend starting with their first album."
The band, which formed in 2014, is made up of four members. They include Neil Smith, the lead vocalist and rhythm guitarist, Christopher Vanderkooy, the lead guitarist, Peter Wilton, the bassist, and Mikey Pascuzzi, the drummer. The members of Peach Pit are high school friends and have all decided to leave their jobs behind in hopes of making good music. As individuals, members of Peach Pit aren't your average rock stars. They are known by their fans to be down to earth, friendly, and personable. Perhaps Peach Pit's factor of relatability is one of the primary reasons the band is adored to a high degree by their fanbase. 
That said, many students at Grossmont love music because they want to enjoy what they hear, first and foremost. Many music enthusiasts seem to love the band's sound but rarely are in an agreement reached on the band's genre. What type of music does Peach Pit play? Spotify describes them as "alternative," while Google seems more content to call the band "modern surf rock." 
Their loyal following commonly states that Peach Pit is more of an indie-pop group.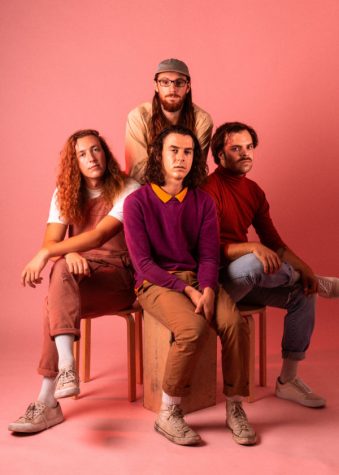 While all these claims do have varying degrees of validity to them, in reality, pinpointing an exact genre for the group to fit into is easier said than done. While the musical style of Peach Pit varies from song to song, it is easy to hear similarities in their music, especially when it comes to Smith's constantly smooth vocals. However, the band dabbles in just enough of a style assortment for the amendment to be made: the Peach Pit is, in fact, a multi-genre affair. Possibly the most colorful description of the band's genre comes from the members themselves, branding themselves as "chewed bubblegum pop."
"I really love their attention to detail," said Grossmont student Katie Martens. "The guitar sounds, especially. It just sounds so incredibly clean and well mastered. I think that's rare to find in a band their size."
Regardless of the genre, Peach Pit's music is truly a sound to behold. Though their sounds and chord structure are nothing unfamiliar to those who might have dabbled in the indie music sound, the band manages to stay fresh. Other bands that attract younger listeners might fall into the routine of complaining about a girlfriend or rebelling against authority, two common song topics that have been done thousands of times. However, you won't hear much of this from Peach Pit. The best way to describe the song structure of the band is by noting their lyrics are reminiscent of a story being told to you by a close friend at a laid-back get-together. This is a great way to think of Peach Pit's discography. Vanderkooy's guitar leads fluctuate from upbeat and peppy to melancholic depending on the particular mood, while Smith's vocal range is vast and his voice gives off a multitude of different emotions through each song. 
Student Jake O'Mara had much to say regarding the band's feel, in particular, their use of varying tones through their discography. 
The sophomore album from the indie rock band Peach Pit, "You and Your Friends" finally debuted earlier this month. They surprisingly departed from the upbeat surfer sound that rose them to fame with their EP "Sweet FA" and debut record "Being So Normal" and went into a heavier and more pop-punk tone. There is more distortion on the vocals and guitar and a lot more emphasis on the bass. This isn't to say the record is lacking in their old sound either. Two of their singles, "Shampoo Bottles" and "Black Licorice", both still carry their original surf indie rock sound. All-around, "You and Your Friends" is an incredible step forward for the band and shows their great talent for the adaptation of sounds.
Upon listening to even a handful of songs from this innovative band, one will be able to tell the members of Peach Pit are musicians who truly take time to hone their craft. Each one of their songs tells a tale that is a bit different from the last, and listeners will greatly enjoy their experimental, yet familiar sound.