Free Menstrual Products Around San Diego
Live Well SD has partnered with Aunt Flow with putting free menstrual products around town.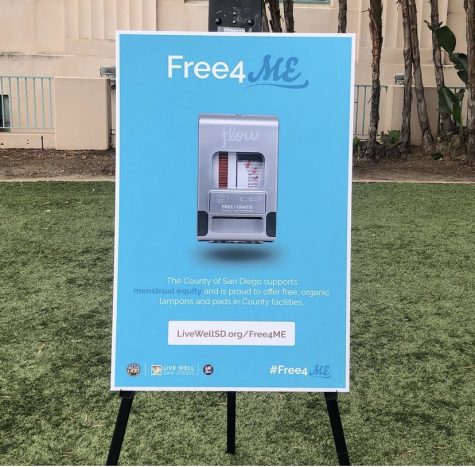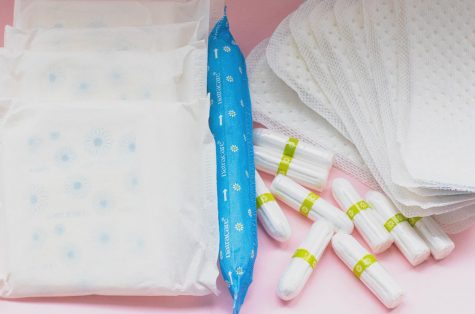 Live Well San Diego has started a pilot project that involves making impressive changes, starting with getting easy access to free menstrual products for women all across the city. Say goodbye to those old metal boxes you find in public restrooms without even seeing how many products are inside, and say hello to free-vending menstrual product dispensers by Free 4 Menstrual Equity, or Free4ME. 
Many people were involved in this project, including Tara Beeston, a community health program specialist for Live Well San Diego.
"Early in the COVID-19 pandemic, the issue of menstrual equity came to the floor as did many issues of equity," Beeston said. "With the schools being closed, many young people were no longer able to access these products."
Beeston said the organization heard from its school partners that some school districts would take the products that were in their restrooms and warehouses and add them into their food distributions and sites. 
"We talked to these schools and we learned how they were doing it. We put together a resource document to share with other school districts who maybe thought of doing this or didn't know how to do this," said Beeston, adding that was just the beginning. 
It is no secret this issue is important. The team wondered how it could more sustainably handle the issue. Beeston said the team looked internally and had the idea in 2020 to install a free vending menstrual product dispenser in their county facilities. 
Nothing is more annoying than being out in public, needing a menstrual product, and then finding out that the box is empty and you are out of luck. Thankfully, the dispensers that Free4ME installed have windows so you can see ahead of time.
There are currently 24 facilities that have at least one Free4ME dispenser; some buildings have multiple dispensers, some just have one if it is smaller. As of right now, the only products offered are pads and tampons. 
"During this pilot phase of this first year we don't have these dispensers in every single public county facility, but that is the long-term goal of this project," Beeston explained. 
There is a sign next to every dispenser that reads, "The county of San Diego is proud to support menstrual equity and provide these free products." It's followed by a QR code that takes you to a survey where you can enter your feedback.
Beeston said Live Well is also hosting a Menstrual Equity Community Round Table.
"Every couple of months we bring people together to have discussions about 'What's the work going on in San Diego County right now? How can we support each other in this initiative? What resources exist?'" she said.
AB-367, a law requiring menstrual products in public schools and most colleges and universities, just recently passed. It allows all public schools — from grades 6 to 12, community colleges and state universities — to have restrooms stocked with free menstrual products in the 2022-2023 school year.
When asked about the future of the pilot program, Beeston said: "I am excited about this project. And we are going to gather a lot of information and data from this. And then we can help inform how we, internally, the county can expand the program."
She added: "Maybe we put more dispensers in more restrooms in those particular locations; maybe it will be the libraries that have the most demand. So, I'm looking forward to gathering all that data, breaking it all down, and seeing how we can expand, internally, but then also use that data to show other organizations."
NBC 7 San Diego reported that feminine products can be a financial burden for low-income women: "Studies have shown that nearly two-thirds of low income-people with periods in the U.S. have been unable to afford menstruation products during the previous year, and frequently must decide between purchasing food or other necessities and menstrual hygiene products." 
This is referred to as "period poverty" and it disproportionately impacts people experiencing homelessness, transgender people, youth and low-income individuals, according to livewellsd.org.
According to Reuters.com, women who were unable to afford these products would use anything they could get their hands on first, including "cloth, rags, tissues, toilet paper and sometimes diapers or paper towels taken from public bathrooms."
When Michelle McCurdy, Grossmont's nurse practitioner, was asked if one day Grossmont will ever get one a free dispenser installed, she said: "I absolutely support this idea and believe it is something we as a Health Center should work toward. I am only in an Interim Supervisory position at this point and we only have one full-time RN working in the clinic. Along with that, budget continues to be a concern, but I feel it is an important enough goal to make a priority."
Beeston said LiveWell gets approached by other counties in California and throughout the Country that are excited about what they do and interested in learning how they do it.
Visit livewellsd.org to see all the locations of Free4ME product dispensers throughout San Diego.