Removing Barriers
The bills aim to make the path easier for community college students when transferring to a four-year university.
Two new assembly bills aim to remove transfer barriers from community colleges in California. The bills would ease the path for community college students to transfer to a four-year university.
Assembly Bills 928 and 1111, authored by chair of the assembly select committee Marc Berman, indicate unnecessary barriers in the transfer process and require collaboration within California's higher education system.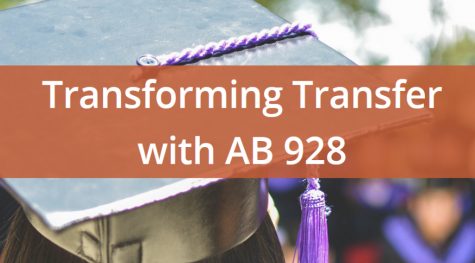 Wendy Brill-Wynkoop, president of the Faculty Association of the California Community Colleges (FACCC), said that Assembly Bill 928 has three categories. 
The first part of the law establishes a higher education oversight committee, which is responsible for improving transfers. 
"This interest segmental committee will be charged with looking at transfer moving forward in time," Brill-Wynkoop said. "There are different members who are on that committee and what we were able to advocate for is more faculty and students on the committee."
The second part of the bill removes barriers to the successful but underutilized associate degree for transfer, and establishes a single general education pathway that meets transfer from the community colleges to either the CSU or UC.
"Five representatives from the UCs Senate, five representatives from the CSU Senate and five representatives from the Community College Senate will meet together and they will determine what this singular general education pathway is," Brill-Wynkoop said.
A statement released from Berman's office on Oct. 6 said: "When students discussed their experience with the transfer process from community college to four-year university their message was loud and clear: the transfer is too complex, confusing, and difficult to navigate. Instead of being a clear path, it's a maze, and it's costing students time and money that they can't afford. Together AB 928 and 1111 will make it easier for students to achieve their educational goals." 
Brill-Wynkoop said the third part of the bill automatically takes students to a transfer degree pathway if there is any existence in the subject of their choice, but she said that the auto-placement in the transfer degree has some problems for several reasons.
"First of all, after several years of working on transfer degrees, it's only about 25% of the transfers to the CSU from the community colleges," Brill-Wynkoop said. "Those students who transferred from the community colleges in 2022 to a CSU, only 24% of them transferred with an ADT guarantee or a transfer guarantee."
A press release from Berman's office added, "AB 1111 removes another transfer barrier by requiring comparable community college classes to have the same course number through a common course numbering system, reducing student confusion."
Gov. Gavin Newsom (D-Calif.) signed both Assembly Bills on Oct. 6 during a ceremony at California State University Northridge.