"Pride and Prejudice" Review: Heightened Austen Antics
How did this modern adaptation stack up against the classic novel?
Jane Austen has transcended time and carried her Regency-era socialites into the Twenty-First Century. Her books have become required readings in high school, adapted for television and film, and performed live on stage. For Playwright Kate Hamill, she has taken the quippy and satirical situations of "Pride and Prejudice" and elaborated on the comedy of it all.
The Stagehouse Theatre premiered the show on March 17th to a full (but socially-distanced) audience. Although the play is a modern interpretation of the story, it takes place during the original time period. Some jokes include slapstick and farce, but the dramatic moments of the story still carry weight.
A modern interpretation doesn't boil down to just comedy: the show featured contemporary pop music and colorful lighting. However, these moments were so few-and-far-between that it didn't seem to make sense as to why the story was being played that way. Some audience members sitting a few rows back were audibly confused, and questioned the music choices every time it occurred. It felt like the production was squeezed into too-small a space for the director to really let her vision through. The modern music and dance sequences are meant to compare the social situations in Austen's time to our own, but this wasn't accomplished in a clear enough way.
The story was helmed by a very charming Elizabeth Bennet, played by Kaitlynn Dupuy. She showed the character's stubborn side, and the dramatic scenes between her and Mr. Darcy, played by Ryan Yerger, had lots of great chemistry and tension. Jane Bennet, played by Becca Moore, played well off of Mr. Bingley, played by Dylan Napieralski. For the role of Mr. Bingley, Napieralski fully embraced the puppy dog personality, playing into the joke very well.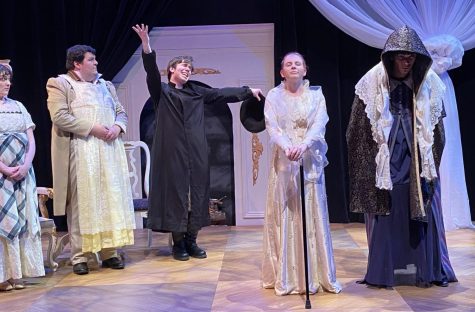 Unfortunately for this production, the show was very loud. This especially rang true for the character of Mrs. Bennet, played by Riley Ellis, who seemed to yell at the top of her lungs for the full runtime. Volume should be used to accentuate a word or feeling, but yelling the entire show just creates a one-dimensional character. This also rang true for the ongoing joke of Mary Bennet, played by Diego Messieri, scaring the family; the others simply screamed every time they were spooked by Mary's presence. This production lacked a good amount of physical comedy, and it felt like this joke could have been an appropriate place to use it.
To give Ellis credit, she kept up her energy the entire show. For an animated character such as Mrs. Bennet, and a solid runtime of two hours, keeping momentum and energy up throughout all of it is no easy feat. Giving it your all for a production such as this deserves recognition.
The time-period costumes by Joan Mathison are well-suited for the characters and their personalities. Each of the Bennet sisters wore a different color: Elizabeth in a lively green, Jane an elegant purple, and Lydia a bright and flighty shade of pink. The men were dressed handsomely in their Regency-era coats, and all looked quite dashing.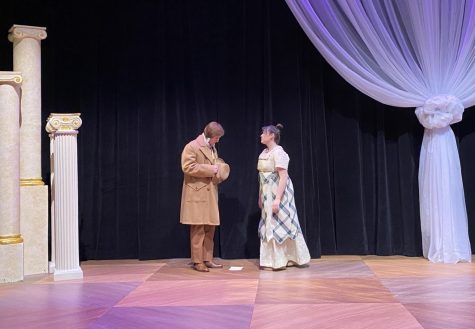 Kate Hamill's "Pride and Prejudice" is a great show for theater students. It combines just the right amount of drama, comedy and spectacle. While The Stagehouse Theatre's production stumbled and fell in a few places, it still remained an enjoyable evening with a lot of laughs. 
"Pride and Prejudice" continues its run March 24 through 26 at 7:30 p.m., with an additional showing at 2:00 p.m. on March 26. Call 619-644-7234 to purchase tickets.