The Health Fair Made Its Way Back to Grossmont
After its absence due to COVID-19, Grossmont's health fair returns!
Grossmont College spent a long time conducting classes at home because of the health and safety concerns caused by COVID-19. 
This change put many programs and events on hold for the time being, and as Grossmont slowly welcomes its students back on campus, we see more of these programs and events make their way back.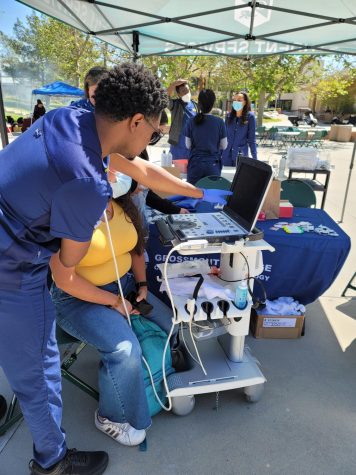 The Health and Wellness Center hosts a fair to highlight the importance of healthcare. This year, the fair returned to the quad on April 13.
Elaine Adlam, a registered nurse from the Health and Wellness Center, said the fair was about "getting the community, both on Grossmont's campus and the outside community, coming together to promote health and wellness on campus."
The fair highlighted many local health and wellness-related organizations and showcased some of the technology used in healthcare.
According to Adlam, the fair was an annual event but took a break because of COVID-19. This year was the first time back since the outbreak, and organizers plan to continue the annual cycle of the fair.
Several organizations and programs at the fair set up booths and tables to showcase their resources and services.
Champions of Health organization provided free COVID-19 vaccines for students who showed up at the fair. Another area offered mental health awareness information and allowed guests to write what mental health meant to them on a poster board.
Another section at the fair featured Survivors of Torture, International. According to its website, it's a non-profit organization that "provides hope, rebuilds lives, and fosters a welcoming community" for torture victims. 
Other nonprofits participated at the fair, such as the 211 organization, which connects people to resources for housing, food, psychological aid and more. In the same section was The Family Health of San Diego, which provides medical healthcare services for lower-income, uninsured, and medically underserved people. 
The booths there offered guests small, quick activities, and they were awarded prizes for completing the activities. Prizes included snacks, water bottles, shirts and more.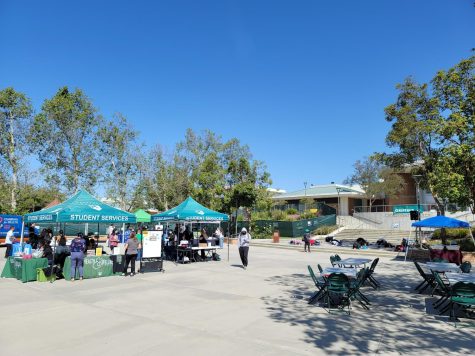 The Get Inclusive organization's booth had participants complete a short educational lesson on how not to be a bystander and stand up on behalf of others for the community's wellbeing. Those who completed the lesson had their selection of prizes.
The Health and Wellness Center invited the school's yoga program to conduct its classes outside, as yoga also promotes health and wellness. There was even a meditation station for guests to relax and clear their minds.
The exercise science program shared drug abuse and nutrition information at their tables. They also had machines that measured guests' blood pressure and body composition.
Liz Barrow, the program director of cardiovascular technology, had a section set up with devices that used ultrasound technology to evaluate specific arteries and veins. Participants could have their pulse checked by nursing students who handled the equipment, and the students would explain the uses and implications of the technology.
It's exciting to see more events like the health fair return to campus. It's another step toward Grossmont returning to how it was pre-COVID.