Cultural Visibility
Arab-American artists celebrate their culture in a Hyde Gallery exhibit.
In celebration of Grossmont College's Arab American Heritage Month, the Hyde Art Gallery put up a mini-exhibition in the window display on the southside of the performing and visual arts center for the month of April. 
The mini-exhibition included different types of paintings, photographs, artifacts and various objects around the Arab world.
Doris Bitter, Yasmine Kasem and Haneen Oriqat were a few of the artists who participated and shared their work with the exhibit.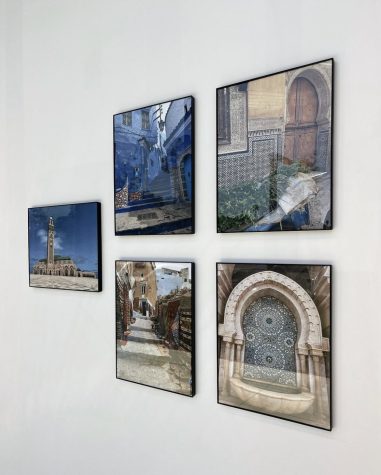 Bitter's "Strips and Stars: Baghdadi Bride 2," a 40-inch-square oil painting on linen piece, was created in 2011. Haneen Oriqat's various photographs of Chefchaouen and Casablanca, Morocco, were digital photos on display. 
Yasmine Kasem's "The 210th Night" is a more than 5-foot cotton piping and dye painting, created in 2021. 
When was asked what inspired her to create this piece, Kasem said: "In 'The 210th Night,' I'm depicting a scene from a different story – Kamar Al Zaman – in which a newly wedded princess is abandoned by her husband and she must pretend to be him. She is then pressured to marry another princess in a kingdom she visits and on the 210th night, she reveals her true identity to her wife who was upset they had yet to consummate their marriage." 
Kasem said she intends for her audience to simply see visibility through her pieces. 
"As a queer Muslim-Arab myself, it is difficult to navigate the channels of each identity when their is clear animosity from each community to the other," she said. "By rendering these stories, I'm saying queerness is a part of Arab heritage." 
While working with cotton piping for a few years, Kasem created her piece using no paint, only cotton piping layers out in individual strands like embroidery and dye. 
"Dye just seemed like the best option because it absorbed so well into the fibers," Kasem explained.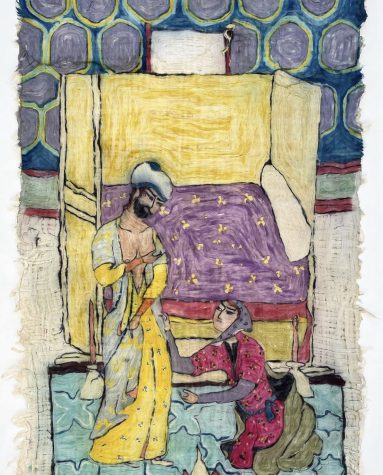 Art is a creative way to celebrate culture. 
"All the work I make is Arab art, regardless if it has traditionally recognized Arab aesthetics or techniques," Kaseem said. "What matters most is individual perspectives Arab artists contribute to the broader conversation about and culture."