Building Towards Greatness
After a tough season of adjustments, the Griffins are coming out hungry to improve next year.
After 27 games and an 11-16 record, the Grossmont College men's basketball team finds itself back to the grindstone as offseason workouts ensue. While the outside eye may find their past season to be rather underwhelming, there is more to these Griffins than the wins and losses show.
Scratching the surface you see a team gritting through injuries, lacking size and learning an entirely new system. Most people seeing that could now begin to understand the obstacles the team had to overcome throughout the year.
"We ended up starting slow and kind of found our groove; Christmas break gave us a little bump in the road," Head Coach Doug Weber said. "We tried something new this year, the way we played, the style we played was completely different than years past."
With a severe lack of size – no one on the team was listed over 6 feet 5 inches – it is true that the team needed to adopt a new fast-paced, small-ball system. The new 5-in-5-out scheme made strong use of the team's speed and shooting capabilities, subbing in a fresh five-man lineup every 40 seconds to keep offense and defense energized and aggressive.
"As a shooter, I think it was really good to have the green light," said Brandon Tully, guard and the team's leading scorer. "For them to say, 'Oh, we want you to shoot, we want you to put up shots," it feels good against the conference to put up shots I feel I can make."
Tully and his fellow Griffins certainly put up plenty of shots, leading the state in both team field goal and three-point shot attempts within this new system, as well as ranking top 10 in team three-point shots made. Despite their furious offensive shooting, the team struggled to light it up consistently until the latter half of the season.
"It was a transition for all of us as players on the team, and we eventually adapted to it," said Guard Samuel Stewart IV, who is a first-team all-conference player. "That's really what it was at the end of the four-game win streak, we really all just came together as a team and adapted to what coach wanted us to do."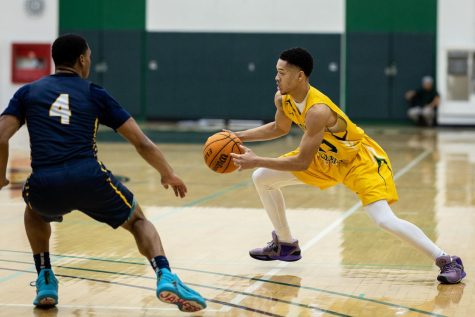 Stewart is not incorrect in his assessment; when looking at the last six games the Griffins played in February, their record was 4-2 ending the season on a winning streak against conference opponents. That can build momentum for a developing team into next year and shows real buy-in to a completely unfamiliar system from all of the players.
"Once we got it, not figured out total, but like ok this is how we're supposed to do it we finished off the second half of conference (games) pretty well," Weber said.
The Griffins still have plenty of ways to go before they reach the higher levels of play they want to accomplish. While the team led the state in field goal and three-point shot attempts, it still failed to capitalize on a lot of those shots with team field goal and three-point percentage at 37% and 27% respectively. They also led the state in offensive rebounds as well as total rebounds, but interior defense still remained a significant problem with both coach and players agreeing their unit gave up way too many easy shots and layups at the rim.
All of these issues can be worked on though, and with a new season roughly half a year away the team has plenty of time to improve, as well as hopefully recruit some woefully needed size. These Griffins have also already built a selfless foundation revolving around teamwork and improving together as a unit with credit going to Weber and the rest of the coaching staff for architecting the culture. Both Stewart and Tully fervently credited teammates and the coaching staff for their own individual success this season. They also both expressed team-oriented goals in their hopes and expectations for next season.
"With the guys we have returning I feel like we all have great chemistry playing together already, and I think the best part about all of us is we're gonna be able to help each other find our shots and get into rhythm," Tully said. "We hope to have an improved record next year and hopefully compete for the conference."
Stewart added: "De
finitely making playoffs, definitely winning league first. At least top four in league. The games where we went to conference and played these teams for the first time we would lose badly, then we would play them again it seemed like we would play different and lose by like just one or two points. These teams were beatable."
Having momentum on their side coupled with the selfless buy-in and chemistry from the returning members of the team, the Griffins will be hard at work with Coach Weber to achieve their greatness.
Leave a Comment
Your donation will support the student journalists of Grossmont College. Your contribution will allow us to purchase equipment and cover our annual website hosting costs.
About the Contributor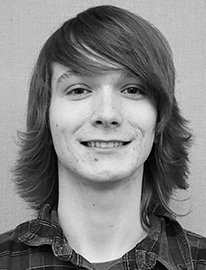 Gideon Fogt, Editor-in-Chief
Editor-in-chief of The Summit and journalism major with a passion for all things related to sports, politics and the natural world. Looking forward to...