Construction running ahead of schedule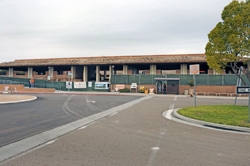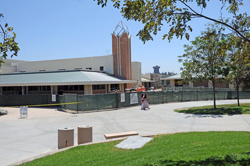 Story by Issac Jeitler
Photos by Stephen Harvey
GROSSMONT COLLEGE — Construction has been buzzing in the campus air ever since the start of the Fall  2010 semester.  Students around campus couldn't help but notice the Griffin  Center and Student Services building being torn down and erected anew.
Expecting a completion date before the 2012 Spring semester, Senior Project  Manager Dennis Dizon said, "not only are we on schedule, but  we're actually ahead of schedule."
The Student Services building which contains the financial aid office,  counseling, and the offices of deans and the college presidents  will total  37,000 square  feet.
The Griffin Gate  Student Center which houses EOPS, student affairs, health services, the culinary  department and cafeteria food services totals 47,000 square feet, including a second floor.
"Both the Student Services building and Griffin Gate are LEED Certified,  thus making them the first "Green" buildings in the Grossmont / Cuyamaca District," Dizon said.
The campus community can look forward to the grand openings of each  building at the start of their next semester.
*
Jeitler is a student in Media Comm 132.  He may be contacted at [email protected]