GROSSMONT COLLEGE — Walking through the Grossmont Theater Department there are costumes of all colors hanging from rows that stretch to the ceiling and soundboards covered in a thousand buttons and switches. "This place is magical." stated Alexis Popko, theatre operations facilitator, while walking through the department.
The current productions are Inside the Actor's Process, which is an outreach program that tours local high schools, and The Odyssey, a play about the ancient epic poem.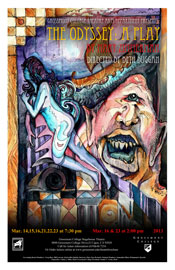 The Theater Arts Department presents four major plays onstage each year, as well as two outreach programs that travel to 15 different local elementary and high schools.
According to Popko, one of the biggest challenges the theater department faces are financial issues, caused by budget cuts. "The teachers here are actively fundraising to maintain the integrity of the program and keep the classes up." Popko said.
Students maybe be surprised to know that some theater classes satisfy general education requirements. The department also utilizes talent in many areas, such as Math and English.
"When you do the arts, you're taking all your basic skills and blending them together, and you can really appreciate the value of your basic skills, and also enjoying yourself, and providing beauty." Said Popko.
Students auditioning for roles or for a musical theater class might want to get to know the theater instructors. "They have a great open-door policy here." stated Popko "They can stop in and get some very good advice that not only applies educationally but it also applies professionally."
"The most important thing to know about these instructors is that they are all working acting professionals. So it's not like we're just teaching from a book." Popko notes about the instructors in the theater department. "It's so much the real true meaning of education, they don't just lecture, they literally help you through."
For more information about the Grossmont Theatre Department, visit their website at: http://www.grossmont.edu/theatrebrochure/default.asp or contact Alexis Popko at (619)644-7267