When Life Gives You Lemons, Make Scones
What's the worst way to enter a party? Empty handed.
Lucky for you, I have the perfect recipe to prevent this disaster. Any gathering on your calendar this spring will be memorable thanks to your homemade lemon blueberry scones.
If the word "homemade" scares you, don't be intimidated or let the fancy title discourage you. The recipe can be made in about 30 minutes and will be yummier than anything you could buy at the grocery store.
The beauty of spring baking is the fresh, seasonal fruit available. Lemons and blueberries will spruce up a basic
British scone and make it perfect for breakfast, lunch, dinner, dessert and all the in-between snacking.
Put on your apron and meet me in the kitchen.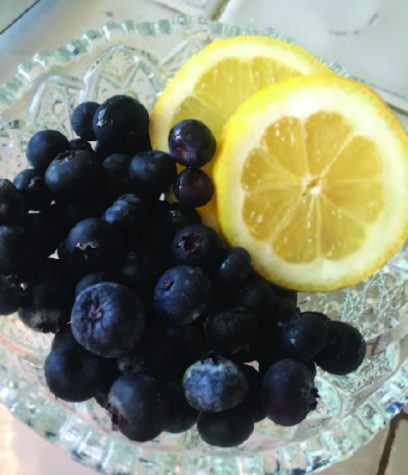 YOU WILL NEED:
2 cups flour
1 tablespoon baking powder
2 tablespoons sugar
½ teaspoon salt
6 tablespoons butter
½ cup milk
1 egg
1 cup blueberries (fresh or frozen)
3 tablespoons lemon zest
NOW WHAT?
Combine flour, baking powder, sugar and salt in a large bowl.
Add room temperature butter into the dry ingredients until the mixture is very crumbly. Gradually add the milk until all ingredients are thoroughly mixed. The last step is to mix in the blueberries and lemon zest.
Once combined, put the dough on a flat surface such as a cutting board. To prevent the dough from sticking, coat
the surface and your hands with flour.
Shape the dough into a disk about 6 inches wide and 1 ½ inch thick.
Cut the scones into pizza wedges and place onto a greased cookie sheet.
Lightly brush a beaten egg on the tops and sides of each scone to make them golden and crispy.
Set the oven to 400 degrees and bake for 15-20 minutes.
Your final result should leave you with fresh and fluffy scones. They can be served by themselves or with jam and whipped cream.
LET'S REVIEW YOUR ACCOMPLISHMENTS: YOU HAVE SUCCESSFULLY BAKED AN ENGLISH DELICACY, SHARPENED YOUR DOMESTIC SKILLS, ZESTED A LEMON AND EARNED BRAGGING RIGHTS. CONGRATULATIONS!