Women Who Inspire
Grossmont's AAUW hosts a panel of successful women to inform, inspire and empower.
Women's History Month is over, but the notion to empower and support women continues. Before Grossmont Colleges' spring recess, a panel consisting of four successful women was hosted by Grossmont's American Association of University Women. The purpose of the panel was to have women from the community share their stories of success and struggle as they forged their paths through life and their careers.
In light of the recent #MeToo movement and push for gender equality, events such as these are important to have to encourage and support everyone in our community, especially women. The panel, titled "Women Who Inspire," consisted of a series of questions prepared by Grossmont's AAUW members and asked by the club's president, Maya Clark, as well as questions from the audience at the end.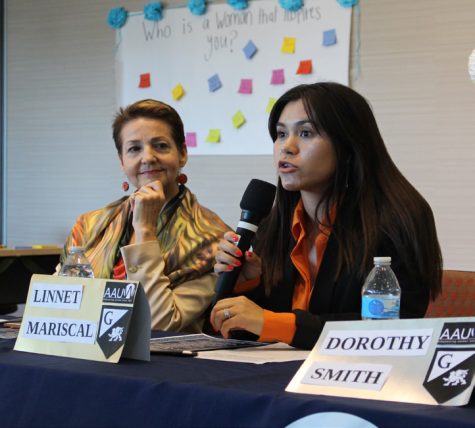 At one point during the panel Clark asked, "What advice can you give students when they are in the midst of failure or a crisis?"
Panelist Dorothy Smith said, "Coping skills are the most important skills a woman can have," adding that we have to "tell ourselves we are capable."
As stated on the program flyer, Smith has a doctorate in educational leadership, as well as master's and bachelor's degrees in English, and was the first African-American woman to be elected to a San Diego political office in 1981, where she served eight years on the San Diego Unified School District Board of Education. Smith also taught San Diego City College and San Diego State University for 31 years.
Dr. Cindy Miles, Grossmont-Cuyamaca Community College District Chancellor and another panelist, said to not listen to the garbage.
"There's a lot of garbage out there that tries to tell you who you are," said Miles, adding that "what you think of yourself is most important. If it's a garbage voice, then turn it off."
Miles has been chancellor since 2009, but is set to retire at the end of the year. She has a doctorate in educational administration, a bachelor's degree in biology, and a master's degree in higher education.
Such events are necessary to bring the community together and show support to those who may need it or those who are interested. It is important for students to hear from women who faced adversity and pushed forward to achieve their goals.
A trial attorney and activist for women, LGBT+, and active and veteran military members, Bridget Wilson said: "What we offer is kind of real world experience without throwing jargon at you. We are people that have lived these lives, and it gives context to what you are doing here."
According to the program flyer, Wilson served in the U.S. Army Reserve and was a judge advocate for the California State Military Reserve. Advocacy for the LGBT+ community has been a major focus of her career. Wilson also has degrees from Creighton University and the University of San Diego School of Law.
To hear from women who empower and inspire is important for students of any gender to be informed and learn about the experiences of various successful women who may have faced the same adversity. It is also just as important for the panelists to share their personal experiences.
"To me it is pretty important to set an example. I have a younger sister, she is 10 years younger than me so to me being a good example to her is what makes me try to be better," said Linnet Mariscal, an attorney for the Mexican bar of lawyers, on why it's important for her to participate in the panel.
As stated on the flyer, Mariscal has a law degree with honors and an LLM degree in American legal studies. She currently works for the San Diego Superior Court in the criminal department and custody team, and has won multiple medals of excellence in criminal law.
In response to why it's important to participate, Wilson said, "we are responsible for passing on information you may not have because no one else is teaching it to you."
She added: "I am hoping that some of our experiences are things that you can identify with, look at, find other similar experiences and relate it to what you are doing in your own lives."
Whether they are setting an example for the younger generation or providing information to those who may not have it, these women strive to empower and support women and men in a world that is slowly progressing toward equality, one panel at a time.
If there is one thing for women to take from this panel it's for them "to get a goal to do something you're passionate about in your career," Smith said.
"Don't let anyone stop you from reaching your goal," she added.
Smith said when she got married and had her first child, her father told she was never going to finish school. But she did reach her goal, even though it didn't happen in the intended order. Personal experiences like that can inspire others who have been in the same situation or have been told similar things. Knowing there are other women who have gone through the same experience is helpful and builds a community and bond, while spreading the message that all women are capable and strong enough to face any obstacle and achieve any goal.
"Whatever goal you set, even if it's not in order, keep your eye on the prize," Smith said.