Softball Hangs-In Hard Season
While the season overall was a tough pitch to hit for the ladies of G-House, there were still numerous hard-fought games and stand out players providing the silver lining on the less than average season.
Finishing with an 8-27 overall record, the season itself pinched off to a slippery start as four games were cancelled throughout February and March due to rain. These delays never allowed the ladies to gain early momentum, which lingered with them throughout the remainder of the season.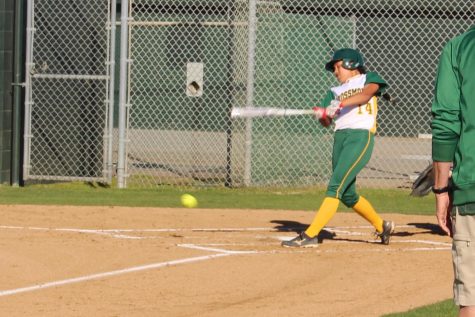 While winning just 2-11 games in March, they were able to bounce back in April with confidence against conference opponents. The bout between PCAC rival San Bernardino proved to be an epic display of Griffin dominance for the ladies as they extinguished the Comets 24-5 in five innings, April 1 at home.
All-star athletes stepped up to the plate for the team as players: middle- infielder/pitcher freshmen Lexi Schmehr, outfielder/infielder sophomore Alizah Jamison and pitcher/third base freshmen Veronica Quirino, were all named to 2nd Team All-Conference in the Pacific Coast Athletic Conference.
Overall: 8-27 Conference:6-10 Home: 4-11 Away: 4-15