Appreciated Support
International students are taking English 120 with English 020 as a support class.
At the beginning of the fall 2019 semester, many international students became confused when choosing between which classes to enroll in. The options included taking English 120 (ENG 120) while concurrently taking the English 020 (ENG 020) support class or completing ESL courses to consolidate their English levels. 
It raised concerns surrounding if international students could do well in the class and also put pressure on them to choose classes carefully.
The semester has passed by and some students have done well in ENG 120, as it has been a positive experience for them — thanks to the support of ENG 020. 
English 020 is not a separate class from ENG 120. In fact, the supporting course is conducted before or after ENG 120 and lasts an hour. In other words, ENG 120 and ENG 020 are in the same class but are divided into two sections.
Nhi Huynh, a student from Vietnam, said that when she started the ENG 020  support class, the professor asked how they could help her to make her writing better.
 "It's like a preparation for English 120. We can learn ENG 120 better when we study ENG 020," Huynh said.
"I think it's good because my teacher is also my tutor," said Basak Guven, an international student from Turkey.
Since English is their second language, many international students were concerned about the level of difficulty of ENG 120. In fact, Rim Hafiane, an international student from Morocco, said that most of the international students she knows dropped the class when finding out it was too challenging for them.
However, many that did not drop, found they were not struggling too hard in the class.
English Instructor Christen McGaughey-Gilreath said that international students in her ENG 120 class were doing well, and "there has been a lot of improvements." 
For more assistance in ENG 120, an embedded tutor is provided to assist students with their assignments, along with the instructor's lectures. Katelyn Wallace, an embedded tutor in ENG 120, said that every ENG 120 has embedded tutors, and usually the tutors spend more time with students face-to-face after lectures or even work with the student's questions by email.
"We have a T.A., but I think our teacher is good enough and he's so friendly when he teaches, like he doesn't let us think that he's a teacher," Guven said.
She added: "I love my class. This semester, I love my English class and the teacher is awesome."
English Instructor Adam Deutsch said: "I think that 020 is an excellent space to provide any student with more support and resources they need to succeed in the class. It creates a specific time for more collaboration, which is essential for learning."
After a semester in the transfer and support classes, Hafiane shared the same thought: "I can say that it was one of the best classes I've taken this semester. I really enjoyed the debates we had in class as well as the assignments that the professor was giving us. It helped me a lot to develop my critique analysis as well as my ability to write in English in a more formal way."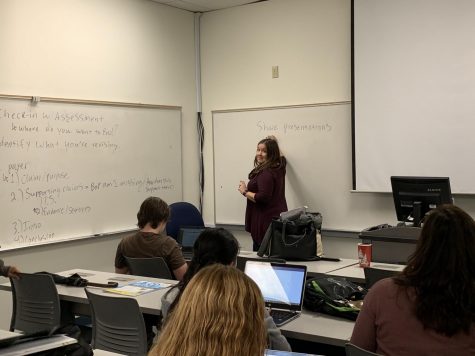 So, should international students take ENG 120 right away to save time and money to finish the transfer level course, or should they take ESL classes step-by-step to consolidate their English first? There is no exact answer.
The most common response is that it depends on the student's comfort level in their English.
"I would definitely recommend international students to take the ENG 120 plus 020, but only if they are really comfortable with their English; if not, I would recommend them to take the ESL 119 first," Hafiane said.
Huynh said: "In my opinion, international students should take ESL first and they can take ENG 120 later, it will be better." She explained her experience taking ENG 120, sometimes feeling stressed that she was falling behind. 
She added: "It's kind of hard for me. If I could choose again, I would take ESL 119 first and then take ENG 120."
Seeing an instructor's perspective, McGaughey-Gilreath said: "I would recommend that students or international students feel comfortable interacting, collaborating with other students. They're open to challenging themselves to share their perspectives and to speak up, despite whatever language confidence or where they are. So you want to make sure you at least have that certain language level to be able to engage those topics."
Cindi Harris, the co-chair of the English department, said that they have many students in the class whose first language is not English.
Even though ENG 120 is required for transfer-level coursework and language acquisition for international students to earn an associate degree from Grossmont; the number of international students taking ENG 120 is still comparatively smaller than other classes. 
Deutsch and Harris both revealed there were no international students in their ENG 120 classes this semester. This makes it hard to measure how successful international students can be in the class. 
"We definitely think we need to do a better job of looking at data with respect to how international students are doing in our English classes," Harris suggested.  
Harris also added that they will keep making sure students feel safe, comfortable, hopeful and know that their instructors believe that they can be successful. 
An update for the ENG 020 schedule: Starting spring 2020, ENG 020 will be scheduled only after the parent-class ENG 120, because, "it seems to work better that way," Harris said.