Career Event for the Community
Just before the closing of campus, Via Rápida put on an event to remember, holding Dia de Familia in the quad.
The need for public service is a huge demand and could always use more people. And what better way to promote it than at a community event held at a college. Dia de Familia is a free career event held annually at Grossmont College in Spring and has a different career theme each year. This year the event took place March 5 in the main quad at Grossmont and focused on promoting public service and nonprofit organizations.
The purpose of this event is to promote careers and majors in public service fields while also encouraging higher education within the San Diego community. The event is open to the entire community, though specifically pushed toward the Latinx population.
"Dia de Familia is open to the whole community, attendees do not have to be current students to attend," said Gabriela Soto, Outreach and Assessment Coordinator at Grossmont College. "At our event, attendees got the chance to learn more about these careers, explore forensics labs and speak to professionals in the fields," she added.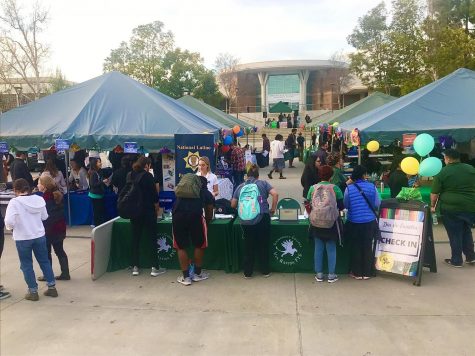 All of the San Diego local agencies and organizations invited were also asked to send Latinx representatives if possible to bring handouts and brochures in both English and Spanish. Sixteen different agencies and organizations were present at this event and every location had a booth set up for people to come and ask any questions regarding a career or major in the specific field. Some of the locations present included San Diego Sheriff's SWAT, International Rescue Committee, San Diego Humane Society and many more.
These organizations offered information on careers and majors focusing in fields such as police officers, mental health therapists, social workers, correctional officers and other public service opportunities. In addition, the event held a Panel of Professionals presentation where representatives were chosen to speak on their career and experiences. This year's speakers included Judge Gonzalo P. Curiel, United States District, Deputy District Attorney Family Protection Division, Agustin Peña and Retired National City Police Department, Sergeant Estela Cordero.
"I began my law enforcement profession in 1991 as a police officer.  I worked patrol for several years before promoting to Sr. Officer, where I had the privilege to become a training officer for new recruits.  I transferred into the Investigations Division and became a Detective working Crimes of Violence, Gangs and Homicide. I was subsequently promoted to Sergeant and returned to the Patrol Division.  As a Sergeant, I supervised the following units: Dispatch, Gangs, K-9 and Patrol. I am honored to say I was the first female to be promoted to Sr. Officer and Sergeant in the history of the National City Police Department," Cordero wrote in an informational google doc containing updates about the event.
Dia de Familia gives people in the community a chance to learn more about careers they may be interested in and speak to current and past professionals who work first hand in the field. To give people a taste of the event, this year offered forensics lab tours and demonstrations as well as outdoor crime scenes. Dia de Familia also had a traditional marching demo by Grossmont Corrections.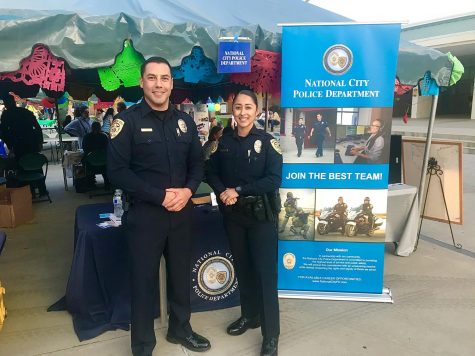 In addition to Dia de Familia offering endless networking opportunities for the community and in-person informational booths with people who are in the field. This family and friends event also has free food, giveaways and this year had a performance by Ballet Folklorico en Aztlan. Ballet Folkorico en Aztlan is a dance theatre company and academy that was founded in 1967. The company is directed by CEO and Artistic Director Viviana Enrique Acosta and they are known for their technique, style and commitment to keeping and implementing Mexican traditional dance movements.
Another Organization present was the National Latino Peace Officers Association San Diego County Chapter. President of the organization David Ardilla said,  "We stay busy all the time." Ardilla explained the many things that this department does for the community such as holding events that offer prizes, giveaways, dinners and even participating in the Toys For Joy event.
---
For more information about the event or about future events like this people can contact Garbiela Soto at (619)668-1726 or at [email protected].
People can also follow @viarapidagc on Instagram or go on the Grossmont College website https://www.grossmont.edu/student-services/offices-and-services/title-v/first-year-experience/dia-de-familia.aspx for more information. And if this sounds interesting to you or you missed it this year be sure to check it out next year spring 2021 for a different career theme.