Grossmont College Theater Presents: "All In The Timing"
Grossmont College's production of "All In The Timing" is utterly absurd yet energetically uniting with inventive costuming, witty dialogue, and impressive acting.
"All In The Timing" written by playwright David Ives is a six-act play that creates different comically ridiculous universes and leaves audiences hooked on to the next laugh. Ives examines life's absurdities through this short production and teaches audiences to laugh at themselves. "All In The Timing" reminds us life isn't always as serious as we make it out to be. 
Directed by Geno Carr, the show premiered in the Stagehouse Theatre on May 18 and was the first show with a full capacity audience since the pandemic began.
Each act had a different setting, with most being in the current era while others were set more ambiguously. For an absurdist comedy, I felt that some of the costumes could have been more outrageous and exaggerated, but, overall, the student designers matched the mood and tone of each act.
Using the word "absurd" to describe this play should not be taken lightly. This play is strange from start to finish in an arresting and compelling way. The set design was simple with the floor being the creative main attraction; Scene Shop Technician Michael McKeon painted the floor with different words and phrases from the show in an intricate arrangement. 
We opened with endearingly funny performances from Shane Robles and Isla Moss in the fast-paced and hilarious play "Sure Thing." The two had excellent chemistry and kept their acting dynamic and present throughout. Robles also stepped in for Jacob Human and played Mark in "Philadelphia" on very short notice. His performance in this piece was engaging, entertaining and absolutely deserving of praise. 
The physical comedy in this production was also done extremely well particularly in "Words, Words, Words." Cole Atencio, Sarah Grubstad and Fletcher Morrow were all very comfortable and unreserved towards their parts as the chimpanzees Swift, Milton and Kafka. This made it easy to absorb the piece and think about the real-life implications of this situation instead of being dis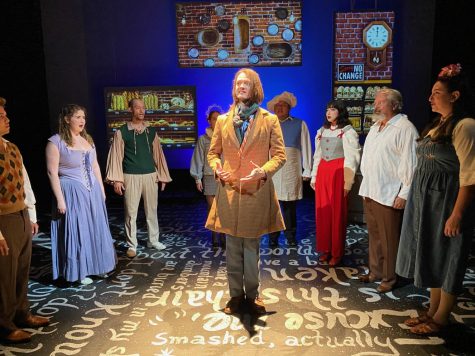 tracted by awkward, hesitant acting. The parody of the revenge plot in Shakespeare's "Hamlet" was handled by the actors with intention and understanding making it enjoyable to watch for fans of "The Bard." 
During "Philip Glass Buys a Loaf Of Bread," the small musical number was incredibly engrossing and complicated. The absurdity of this play was paired expertly with the avant-garde stylings of minimalist composer Philip Glass to make this silly yet impressive number.
Overall, this collection of short-form plays was performed by a very adaptable and talented cast. Ives' creation relies on knowledge of comedy and understanding of text, making this production a perfect project for our community college. Grossmont's "All In The Timing" invites you into its funhouse of mirrors where nothing is as it seems, and by the end leaves you satisfyingly bewildered.