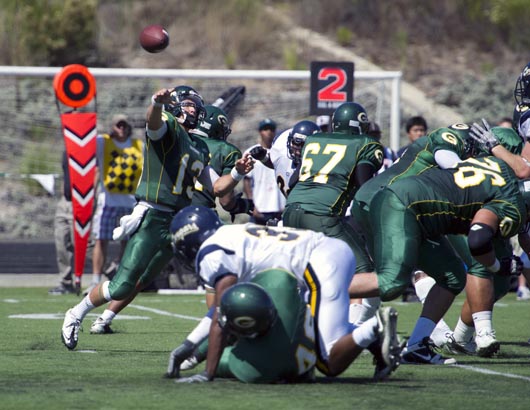 GROSSMONT COLLEGE—College of the Canyons came into Saturday's game ranked 10th in the Junior College Top 25 Poll. That will no longer be the case as the Grossmont Griffins dismantled the Cougars 38-14. Coach Mike Jordan was pleased with his team's effort. "That's the way we are capable of playing. We started out better than last week, last week we started out better than the week before. It's a natural progression, the team is coming together."
Quarterback Mike Karls had a big coming out party. He was responsible for all five Grossmont touchdowns (4 pass,1 run) and was an unstoppable run pass threat that overwhelmed the COC defense.
Informed last Monday that he was going to be the starter, Karls took full advantage of his opportunity. The 5'11'' 185 pound sophomore was an efficient 13-for-20 for 194 yards and four touchdowns, with one interception. He also rushed for an additional 109 yards on only 11 carries including an electric 29-yard tight roping run down the sidelines that set up his 1-yard rushing score early in the 4th quarter.
As the best player on the field Saturday, Karls felt like he may have cemented the starting spot going forward. "I feel like there's a little bit of breathing room. I give all the credit to my line and my receivers, without them I'm nothing." The offensive line was outstanding. Karls was only sacked once, and only two tackles for loss were registered for the vaunted COC defense. His ability to escape the rush and extend plays added a dimension to the offense.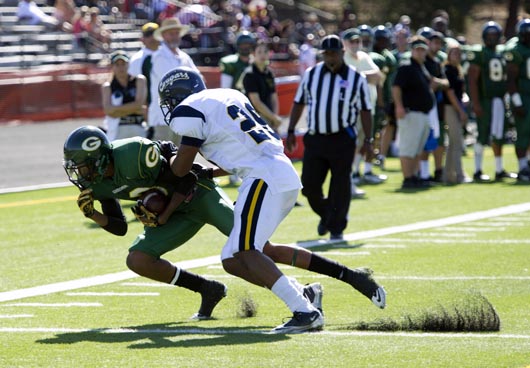 Besides Karls, Matthew Kass also topped the century mark with 114 yards on 14 carries. For the second week in a row the Griffins ran for over 300 yards finishing with combined totals of 44 carries for 310 yards, a whopping 6.7 yards per carry. Karls spread his 13 completions to 10 different receivers. His four touchdowns went to four different targets. Ruben Lawton led the way with three receptions. Trevor Roe led the receiving corp with 51 yards, a long reception of 38 yards and a touchdown. Tim Patrick, Lavant Moore, and Joshua Bell also scored receiving touchdowns.
"He's (Karls) is getting better on his deep ball. When he gets that down, it'll be scary," said Coach Jordan. Karls definitely wasn't afraid of the 10th ranked Cougars, "I like being the underdog, to beat the 10th ranked team gives us a huge amount of confidence." Karls then added that after a victory of this magnitude, "teams should be scared of us."
The Griffins' defense was a frightening sight for COC. With Grossmont leading the whole game the defense was able to pin its ears back and harass COC passers to the tune of five sacks, led by Shane Pennix's two sacks in the same series.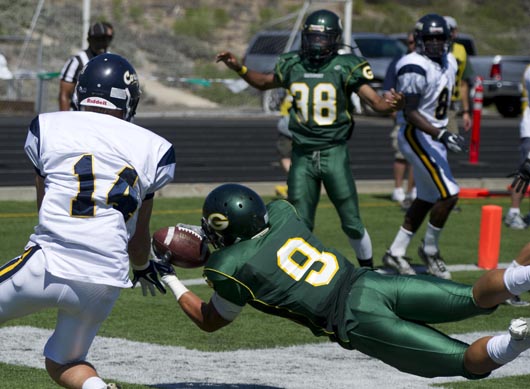 When COC did figure out the Griffins' defense, they hurt themselves with missed opportunities. The COC opening drive was ended when David Edgerson intercepted a pass in the end zone. COC missed a field goal in the second quarter that would have cut the Grossmont lead to 7. An 80-yard touchdown that would have cut the Grossmont lead to three was called back for holding.
Karls and the offense took advantage of those mishaps. Following the endzone interception, the offense marched 80 yards in six plays culminating in Karls' 25- yard touchdown pass to Bell to give the Griffins a 7-0 lead they wouldn't relinquish. Karls started the second quarter off with a 13-yard strike to Lamont Moore to make the lead 14-0. After COC answered with a touchdown, Grossmont kicker Andres Carrillo kicked a 34-yard field goal to give the Griffins a 17-7 halftime advantage.
In the third quarter after COC cut the lead to 17-14, Karls took advantage of a short field leading the Griffins on a 5-play, 29-yard drive that culminated in an acrobatic 13-yard back shoulder touchdown catch by Tim Patrick. The Griffins never looked back. After Karls' 1-yard plunge early in the 4th quarter, Grossmont scored its last touchdown when Karls found a wide open Trevor Roe for a 38-yard clinching touchdown.
Grossmont is now 2-3 and riding a two game winning streak heading into the bye week. Coach Jordan had to give credit to the player of the game, Mike Karls. "He's a special player, he's very dynamic in everything he does."
*
Hurst is a student in Media Comm 132. He may be contacted at [email protected]