Chef Orate offers food for the stomach… and mind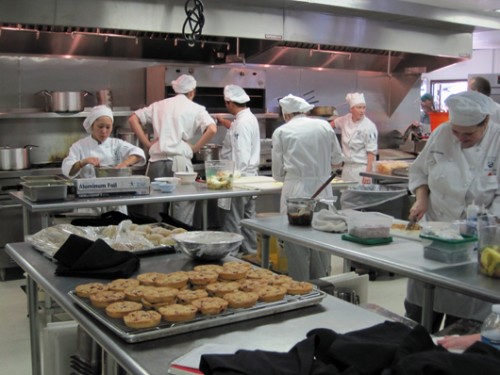 GROSSMONT COLLEGE – Culinary Arts Departments on college campuses is a common trend with the increase in health awareness. On this campus, the Culinary department offers various Associates degrees in the fields of Culinary Arts, Baking and Pastry and Culinary Entrepreneurship.
Joseph Orate, executive chef and coordinator for the Culinary Arts Program, said he is very eager to educate students who show the willingness to learn. Throughout the 2 1/2 year Culinary Degree program, Orate said he not only wants to teach people to cook, he wants to "apply everything towards how to make people become better."
The Culinary Department has become "well known" as a result of the Culinary Olympics and Chef Orate has dozens of awards to show student successes over the years. At times the waiting list to become a student has been extreme. Orate commented the department "once had in excess of 200 students attempting join the waiting list."
Learning to be a Chef, of course, can have its nutritional benefits. But Chef Orate says he intends the courses also to have the benefit of good work habits and attitude that can lead to success in other courses as well.
*
Jeitler is features editor of the GC Summit. He may be contacted at [email protected]