Focus will be on campus photographers Nov. 14-Dec. 15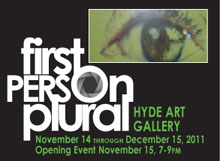 GROSSMONT COLLEGE (Press Release) — The Hyde Art Gallery opens its seasonal photography exhibition Nov. 14 with "First Person Plural". This exhibition represents selected work produced by faculty and staff who are practicing artists and working in our Photography Program. Some of the artists are relatively new to the Photography Department while some have been with it for numerous years.
This exhibit represents the rich culture of the photographic arts developed over fifty years of Grossmont College's growth. Exhibitors include: Craig Carlson, Patricio Chavez, Andy Cross, Alison Elder, Suda House, Michele Iversen, Michael Mulno, Jim Noel, Judith Preston, Amanda Quintenz-Fiedler, Jacqueline Ramirez, Susan Richardson, Louise Russell, Aaron Serafino, Ryder Smith and Paul Turounet
The exhibition runs through December 15, and the opening event will be staged Tuesday, Nov. 15, from 7 p.m. to 9 p.m. The Gallery hours are: Monday and Thursday, 10 a.m. to 6:30 p.m., Tuesday and Wednesday 10 a.m. to 8 p.m. Gallery is closed Friday to Sunday and legal Holidays. Admission is free.
*
Preceding provided by the Hyde Art Gallery