Phi Theta Kappa sells designer pins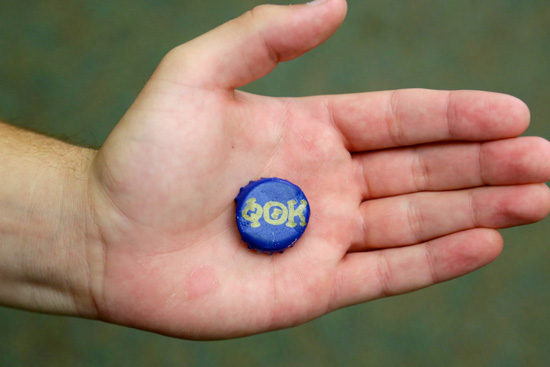 GROSSMONT COLLEGE – A Phi Theta Kappa member makes decorative pins from used bottle caps and sells them for a quarter a piece to make small change for his group and to get the honor society's name out on campus.
John Stewardson one day was camping out in Slab City in southeastern California when he found a bottle cap with a design that caught his attention.  He turned it around and saw a safety pin attached to the back. He said this was when he got the idea to make bottle-cap pins for for Phi Theta Kappa.
Stewardson uses the following materials to make his bottle-cap pins: a bottle top, a safety pin, spray paint, a painting pen and a spray of lacquer.  "It takes me about 15 to 20 minutes to make just one of them."
*
Burke is news editor of the GC Summit.  He may be contacted at [email protected]