Grossmont's pioneer student journalists return to campus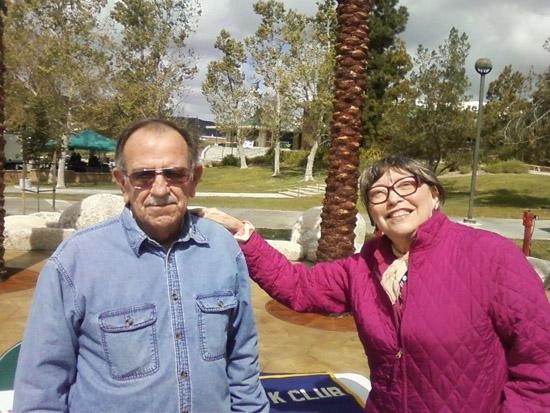 GROSSMONT COLLEGE — Helen McCormick Halmay and Bill Ott, former features and sports editor of the first student newspaper here, say they had a wonderful time putting out the Collegian.  They say the experience helped both of their careers.
Grossmont began in 1962 on just  half of a high school campus and had a very small student body.  Halmay recalls that the student lounge was less than half of what the Griffin Center is today. There were very few chairs and tables,  along with a pool table, a juke box and a small microwave.
Halmay said she was the person who picked the Griffin as the school's mascot. She said she knew that the name should start with a "g" and then looked up Griffin in the encyclopedia and read that Griffin is Greek for "guardian of knowledge." Halmay said she also picked the school colors to be green and gold.
After the first year, the students stopped calling the school newspaper the Collegian and called it "G."
Reflecting the size of the school, the Collegian had a small staff. Some of the personnel that Bill Ott was able to recall were Fred Gates, Jim Young and Fred Graves, all of whom went on to work for the San Diego Union-Tribune.
Ray Reynolds was the first teacher of Newspaper Production. Ott described him as a good teacher who worked his students very hard. Ott said "It wasn't about the grade, if you did your job you'd get an A, with it being like a job. It prepared us for our future."
Ott's interest was sports. However after Grossmont he spent 20 years on five different Navy newspapers. He is still the editor for the Bottom Line.  an owners newsletter for 7-11  convenience stores. He sold his 7-11 three years ago.
Halmay's interest was features and reporting.  Halmay went on to be society editor for the Lemon Grove Review and Spring Valley Bulletin. Halmay also worked for La Mesa Scout and recalled that on her own time for no pay she went to the see the Beatles because her boss said, "Nobody wants to read about those mop heads."
Halmay also worked with Heartland News. She was the art director for Penny Saver, where she trained many graphic artists for the Union-Tribune.
Halmay for the last 20 years has served as editor of Adelante, a newsletter focusing on San Diego County history.
When asked  what advice they have to be successful in journalism, Ott said that "you have to be versatile" and Halmay added, "learn the internet." Some journalists have lost their jobs because they were not up-to-date on transmitting information in the computer age, she said.
Halmay said her first computer was an Apple and she has not gotten rid of it, being the historian she is.
*
Burke is news editor of the now GC Summit.  He may be contacted at [email protected]