Retirement: A Kathy Meyer Story
After 31 years, Dance Department Chair Kathy Meyer extends her retirement to spring to watch her department return home to Grossmont.
Kathy Meyer has been working at Grossmont for 31 years, doing everything she can to make the Dance Department
thrive. Meyer is scheduled to retire in the spring of 2020; she has extended her stay due to the building of the new theater.
"That was a huge motivator for me to stay because I wanted to be in there for at least one student concert, and then next semester will be the faculty concert and that will be the last one, before I kind of pass on the reigns to someone else," Meyer said.
Before she stepped onto the Grossmont campus, Meyer was working, teaching and dancing in the LA/Orange County area. When she went through a divorce and with two small children, she needed to find stability in her life. Her love of San Diego brought her to find work at Grossmont.
"I was a little hesitant because I was coming up just dancing and kind of teaching at a higher level," Meyer said, referring to when she taught at Cal State Fullerton and Cal State Long Beach. "I noticed that Grossmont was an environment where the students were eager to learn," she continued.
Meyer got the job of full-time dance instructor in August 1989. "I became chair, actually when I was interviewed," Meyer said.
"

We've been working side by side and co-administering the department. I've learned a ton from Kathy and she's been a really huge influence.
— David Mullen
She served as chair from 1991 to 2013, then served as co-chair with dance instructor and faculty, David Mullen
and resumed her position in 2017. From then on, the department expanded; it is twice the size it was compared to when Meyer started, adding more classes and concerts.
"She's a partner," Mullen said. "We've been working side by side and co-administering the department. I've learned a ton from Kathy and she's been a really huge influence."
In her many years of teaching dance classes, she observed students were getting injured and there was no proper care for dancers. In 2000, Meyer took a sabbatical and got Pilates certified to teach the class at Grossmont. Dance requires physical conditioning as well as technical classes— for example, somatics, a term that's given to dance
awareness courses or dance injury prevention courses.
"They need theory like dance history, dance appreciation, and then they also need somatics," Meyer said.
Adding a Pilates class to her busy schedule, Meyer is constantly on her toes, not only teaching, but also choreographing, mentoring and managing the department. Despite her busy schedule, she has held steady to expand the department and make it what it is today.
"I am busy, but you know what? That's innate to dancers; if you're going to be a dancer, either instructor of dance or professional dancer, you have a busy schedule," Meyer explained. "You have a long day, but it's usually something you love," she continued.
Meyer's love for watching students perform and grow has been a factor since the beginning. Putting semester shows together with co-director Mullen and mentoring dancers through rehearsals to the final show has been her legacy.
"I will miss her decision-making and her point of view, in which I've come to agree with quite a bit," Mullen said.
Since 2011, the fall and spring concerts have been offcampus at The Joan Kroc Center. The center has always been
accommodating to the Grossmont dancers, but this year the department is departing.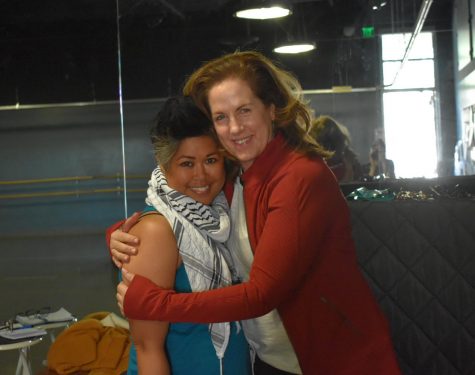 "Every time we went over, we felt like they wanted us to be there," Meyer said. "It is sad to leave them, but on the other hand, those friendships are not going to be broken; we'll still keep them going."
The bittersweet farewell from The Joan Kroc Center leads to a new era of Grossmont, with the opening of the Performing and Visual Arts Center (PVAC).
"I'm excited that we can do more things on campus because we have that theater," Meyer explained, mentioning the choreography class actually performing in the theater. Meyer said she is also excited for the collaboration between
departments, including Music, Theatre, and Visual Arts and Humanities. Besides the usual spring and fall concerts, Meyer said she looks forward to adding another concert for alumni, inviting them back to show what they've done since their days at Grossmont.
"We have so many of our students that have gone on, that are dancing professionally, have their own studios or are a part of dance companies," Meyer said.
"I just want to wish her all the best on her next endeavor," said Anjanette Maraya-Ramney, an alumna student who has learned from Meyer and still keeps in touch. "Just thank her for all of the many years of commitment to this dance department," she continued.
A soft opening of the PVAC took place Nov. 14 when the Dance Department put on its annual Breaking Boundaries show. The theater is nearly complete, and it was still doable for an introduction to what is soon to come. When the doors opened, the large room that had 228 available seats filled up quickly. The hour and a half performance was choreographed by students for students.
Meyer and Mullen welcomed the sold-out crowd with open arms as they briefed the audience of what they'd be seeing. From start to finish, students moved their bodies in various ways around the large stage, from lifts to stunts to jumps, the performance had a "wow" factor. The dancers put all their effort on stage, and it was visible. The show had many different styles: Hip-Hop, contemporary and others, some placed together movingly.
Each routine flowed into the next and each told a story. There were many unforgettable moments, "In an unlikely event," had everyone silent as it displayed the intense portrayal of a school shooting. When the lights dimmed and went dark, you could hear the room take a breath.
Others like "Hey Classio, Sober Up!" was a hilarious routine where dancers messed up on purpose.Laughter could be
heard in the room as dancers pranced around stage recklessly. Altogether, the show was enjoyable and beautiful in many ways. "I just look forward to seeing what she does next," Maraya- Ramney said of Meyer.
Meyer's retirement will not last long as she plans to return to Grossmont to continue teaching a Pilates class.
"I'll just come back and teach those two Pilates classes, just so I have my toe in, that way I'm here a little bit," Meyer said.
In her days when she's not working, Meyer said she looks forward to spending time with family, volunteering and traveling. For all the years Meyer has been here, she has done so much not only for her department, but also for ger students. Meyer continues to show her love and passion."That's a little nerve-racking; it's going to be a lot of work," Mullen said. "I'm excited and I hope that I can do the department justice and continue to grow the program."
On behalf of The Summit, we'd like to wish her luck in her next endeavor. Mullen will take the reigns as the new chair after Spring 2020.