Defusing A Bomb
A Zoom-bombing incident that disrupted a faculty senate meeting is being investigated as a hate crime.
Grossmont College has been struck by Zoom-bombing again, this time during the Academic Senate meeting. It has been deemed a hate crime and is being investigated to bring justice to the perpetrators.
Zoom-bombing is the intentional interruption of a remote meeting, often with malicious intent.
The Nov. 16 incident involved racist imagery and language while Pearl Lopez, a counselor at Grossmont College, was giving her candidate statement to be president of the Academic Senate, a faculty group. The Zoom-bombing didn't stop the meeting, and senate officers removed the intruders and continued the meeting. 
An internal investigation of the Zoom meeting report is being viewed by the District Information Technology department. They are searching for the names and addresses used to determine any relation to a pre‐existing student or employee.
"
We use the term 'domestic terrorism' to fully illustrate what we experienced.
— Administrators and Senate Officers Committee
Current Grossmont College Academic President Denise Schulmeyer said. "It could have been an inside job or could have been people outside the community." 
After the fact, they discovered that before the meeting started there were "one or two individuals" who had been in the meeting since the beginning of it, according to Schulmeyer, who said she believes Lopez was targeted because she is an "Afro-Latino woman." 
Once Lopez began her speech "several unidentifiable names all enter the meeting," Shulmeyer said. "That's when the attack began."
An email sent to faculty from the Administrators and Senate Officer's Committee said, "We use the term 'domestic terrorism' to fully illustrate what we experienced." 
The Administrators and Senate Officers Committee intend to prosecute the perpetrators to the full extent of the law if anything can be discovered during the investigation, according to a Nov. 30 email distributed to the faculty on staff from the Academic Senate officers and the President's Cabinet.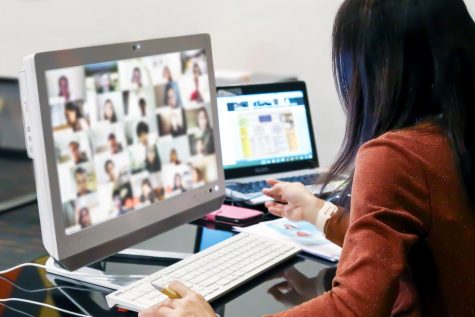 Zoom, the company, has been notified of the incident and the school will be waiting to hear from them.
In the future to avoid these kinds of incidents Schulmeyer said the governing board is going to direct anyone who isn't a part of the meetings to watch via the Youtube stream.
The Administrators and Senate Officers Committee denounced this attack and affirmed it stands against acts of racism, anti-Semitism, bias and discrimination.
Both Lopez and Jeff Waller, a math instructor at Grossmont, were allowed to re-record their candidate speeches and present them to the senate without fear of interruption. The election for senate president will take place Dec. 3.