Budgeting for Fall Return
Chancellor holds forum to discuss the 2021-2022 budget for the Grossmont-Cuyamaca district.
The Grossmont-Cuyamaca Community College District is budgeting around a return for students potentially as soon as this fall. 
Chancellor Lynn Neault and Interim Vice Chancellor Sahar Abushaban held a forum in February with nearly 150 different staff and other members of GCCCD. The meeting was held over Zoom  to discuss the budget and some goals for the 2021-2022 school year. 
Unlike a typical year of budget planning, extra precautions must be taken to account for COVID-19, which is what our district leaders have been working on.
"We don't know what our final revenue is going to be until we're almost through the fiscal year, so by building in a deficit, we protect the district against less revenue but then we've gotta find the money in the following year to cover that deficit," Neault said to open the discussion. "That's the whole purpose in planning ahead for uncertainty, particularly during difficult fiscal times."
Cutting Costs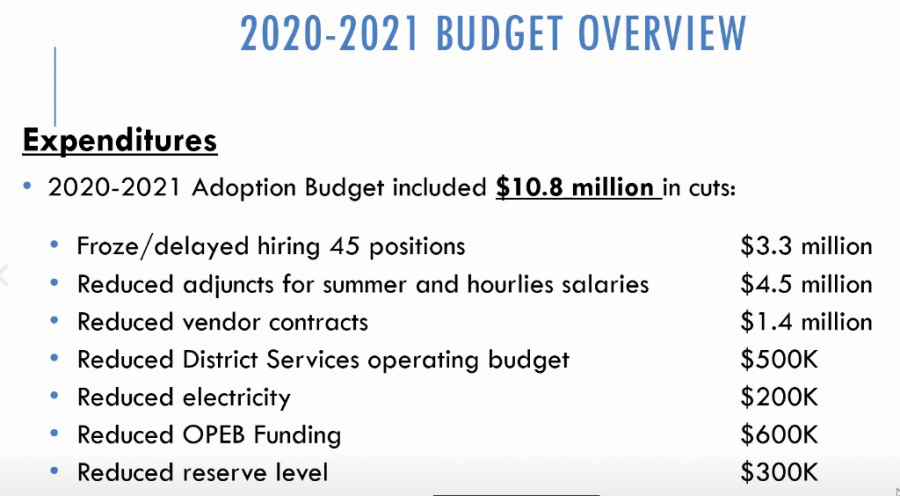 "We have not received COLA this year…as we are building the budget this year, we had to do a severe cut to our expenditures," Abushaban said. 
Abushaban used a graphic to discuss some of the cuts made in the previous 2020-2021 school year, totaling $10.8 million. These cuts include cutting some positions, reducing some salaries and contracts, reducing electricity, and some other expenditure cuts. 
Neault said the administration plans on working around these cuts by making the budget smaller. "Savings was built in when we built the budget, so we literally built a budget $10.8 million smaller because of these cuts," she said. "We've already planned for these cuts in the budget this year just to clarify."
Getting Support
The government has been vital in providing support to colleges all across the nation. The district administration has benefited greatly from the support thus far and will receive another portion to provide support for the 2021-2022 school year.  
Abushaban mentioned the Coronavirus Response and Relief Supplemental Appropriation Act Fund released by the U.S. Department of Education in January. "Our share of that funding is $23 million, of which a minimum of $5 million must be spent for student aid," she said.
Abushaban continued: "This is a one-time fund. We have to use it by the end of the year to defray COVID-19 expenses and also student support related to COVID-19 needs. We will be using this stimulus funding to help us or prepare us to return to campus, which could include technology infrastructure, facilities infrastructure…we are talking about having the Zoom capabilities in all the classrooms, signage wayfinding, automatic doors, so we will be coming up with recommendations as far as the facilities reopening team."
Abushaban highlighted some areas where revenue was lost over the last fiscal school year for the district: "The bookstore has been closed all year so we have not received any commissions, there has been no revenue for parking permits, so we can use that stimulus funding to offset some of the lost revenue." 
The current proposal of the American Rescue Plan by President Biden could provide "between $40 and $45 million" to the district, according to Abushaban.
This includes one of the major aspects across the nation with plenty of colleges working hard to bring students back to campus amid the worst pandemic most have known. According to American School and University, "The University of California system says it plans to have students return back to its 10 campuses for in-person instruction when the Fall 2021 school year commences."
Returning to Campus
"
Grossmont-Cuyamaca administration is working hard toward getting their students back onto campus, maybe even as soon as this fall.
— Chancellor Lynn Neault
"Grossmont-Cuyamaca administration is working hard toward getting their students back onto campus, maybe even as soon as this fall," Neault said, adding that the district will need support to navigate the attendant policies and procedures. "Now, COVID-19 is becoming a safety issue, and we have to make sure we're safeguarding against things; we have to do periodic checks, or it presents a tremendous liability."
Neault said the district was "not equipped" for this process.
"We don't have the staffing to be able to do this, so we're hoping to be able to use the one-time COVID money just temporarily to get us additional staff support to really focus on safety, policies, procedures and communication, and setting up a contact tracing system, she said. "Tremendous, tremendous effort involved in reopening our physical campuses."
This is not the only concern for the district as enrollment levels have gone down 12% from last spring semester. "A key area of focus this year will be enrollment management planning and intentional focus on this area," Neault explained. "That's consistent with the average in the state. Everyone is experiencing enrollment declines."
Neault added that the district needs to get its enrollment back up to keep its funding level; otherwise, the budget will have to be further reduced.
"When we develop the tentative budget, we need to be cautious because things can change significantly between the proposal and June," Neault explained. "We're constantly keeping a watch on what's going at the state, talking to our lobbying groups, talking to the fiscal unit in the chancellor's office, looking at LAO reports, and a number of things to do the very best that we can to put together a realistic budget given all of the factors." 
The final budget must be submitted by July 1.