USD offers views, academics and sports, but is expensive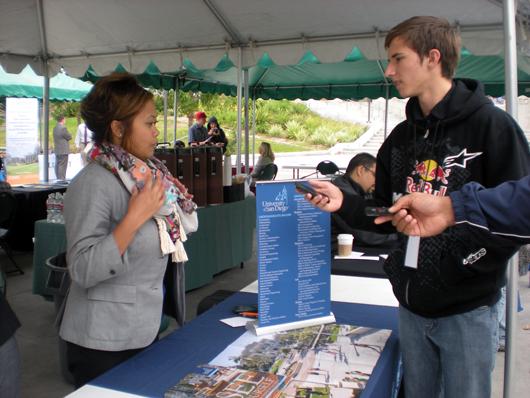 GROSSMONT COLLEGE- I couldn't help gravitating to the University of San Diego booth at the Transfer Fair on Wednesday. USD is the campus perched on the hillside at the west end of Mission Valley, overlooking SeaWorld, Mission Bay, and out into the ocean.
Ever since I was little USD has been my dream school. With my father being a building maintenance supervisor there, I have been closely involved with the school for several years.
One of the main attractions of USD for me is just the sheer beauty of the campus, but the academic programs it offers also make the school a hot ticket. "The number one thing that students tell us as to why they like the University is the connection that they get from our teachers," said Associate Director of Admissions Maria Molley. "Our average class size is 22 students."
Established in 1949, USD is a Catholic faith-based school that was originally for only women, then had a separate school for men as well, but is now a coed University.
"We are a Catholic school but we have never prohibited non-Catholic students to attend," said Molley. "We do not require students to go to mass, but we do have it if students wish to attend."
In my experience there, I have attended summer camps and even worked for the school as a painter. The staff is very focused towards making the students' stay at the campus as enjoyable as possible.
One of the summer camps I attended was a sports camp. USD is heavily involved with athletics as they have several Division 1 sports and even a nationally ranked Baseball team.
However, USD also has some top ranked academic programs. "Our school of business was ranked 36 in the United States," Molley said. "And in Engineering, we're ranked 21."
For many people, the daunting factor in attending USD is the cost which is currently at $38,150 a year for tuition according to the University of San Diego website. But in my opinion, if you can scrape together the funds, it's worth it.
*
Brauer is a student in Media Comm 132. He may be contacted at [email protected]