Baseball coach stresses fundamentals, high GPAs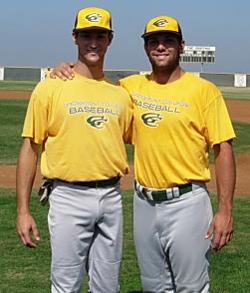 GROSSMONT COLLEGE- The Griffins baseball team is getting ready for its upcoming season, which will start in the Spring semester.Their current practices cover baseball fundamentals and there are many different drills going on so that players who make the team are well prepared for both non-traditional games now in progress, and the traditional schedule in the Spring.
The Grossmont Griffins start with a 100-man roster in the Fall semester. Two classes of 50 players each learn advanced baseball strategy. During the Fall, ten baseball games are played to help the coaches determine who should make the team and who isn't ready.The roster is then cut dramatically with only one-third of the players making the team.
When Head Baseball Coach Randy Abshier was asked if cutting players has gotten easier he responded, "it's never to cut players" and went on to say that coaches explain to the players "what they're good at and what they're bad at and tell them if they and why they did or didn't make the team."Wesley Wallace (left) and Taylor Eichhorst
Abshier acknowledged two of his players who each have a 3.4 GPA and have earned scholarships, Wesley Wallace and Taylor Eichhorst.   Abshier said he is especially big on high GPAs for all of his players amd he said, "you can quote me on that, Choch is huge on GPA."When asked what GPA he is looking for,he responded that everyone on his team has at least a 2.70 with some reaching 3.50. He said he expects nothing short of that.The Griffins coach reported that "scouts come out to our games especially because of the (academic) reputation of our students. Ninety-five percent of the sophomores on this team transfer to their next school.  We make sure they're getting transferred on time".
Abshier has pro baseball players come out to Grossmont to help the team.  The professionals provide players with a sense of what the next level is and what they need to do to improve.
The coach has a friendly warning for batters on opposing teams.  This year, Grossmont's pitchers  average 6 foot 1 in height, and look even bigger on the mound.
*
Burke is sports editor of the GC Summit. He may be contacted at [email protected]