Inside the Actors Process Returns to Grossmont
GROSSMONT COLLEGE–'Inside the Actors Process' is a theatrical experience unlike any performance you're likely to find in other contemporary theaters.
'Inside the Actors Process' is an annual event that travels around San Diego high schools and colleges. The 'Actors Process' has once again arrived at the Stagehouse Theater for the eight time.
'Process' is a compilation of monologues. This year's selection came from a variety of different works such as Cat on a Hot Tin Roof and Twelve Angry Men.
Every year the performance follows a different theme, and this year's theme was drama. The players read dramatic monologues and were serious in their performances.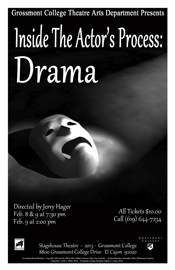 It wasn't all serious however. Interspaced throughout the performances the actors read a compilation of nursery rhymes. Most were correlated to the monologue that would directly follow it.
'Inside the Actors Process' was well performed by the entire ensemble. Each individual actor got their own standout role.
"Each is special in its own regard. I don't know if I could select one over the others. Each actor brings something special to each piece and that's their job," stated Director Jerry Hager "it's their job to get into the shoes of that character and move that story forward. So what's special about it is to watch that process, and that's what makes it magic."
For more information about upcoming performances, visit the Stagehouse Theatre's website at http://www.grossmont.edu/theatrebrochure/plays1213season.asp